Posted by Admin on Aug 3rd 2021
CabinetDoorMart is excited to offer customers high-quality, customizable cabinet doors that are not only manufactured in the USA but can also be ordered online and shipped to your door. Our team of highly trained sales representatives and customer service professionals can help make your dream kitchen a reality. In addition, CabinetDoorMart also offers free shipping on all orders over $150!
Ensuring that everything is ordered to the right specifications can be a difficult task. Our team is well-equipped to answer all of your questions and provide you with reliable service. This guide lays out five steps that you can take to get started on ordering custom cabinet doors and get your project started.
---
Step 1: Construction Styles for Cabinet Doors
Here are a few of the main categories of cabinet door construction styles. Each style offers its own unique benefits and can be customized to work in any space.
Raised Panel Cabinet Doors
Raised cabinet doors have a raised center panel that is the same thickness as the stiles and rails. These doors come in a wide variety of designs, so it isn't too tough to find the perfect fit for you.
---
Flat Panel Cabinet Doors
Flat-panel cabinet doors have a recessed panel that is thinner than the stiles/rails. Flat-panel cabinet doors also come in many styles but tend to be more simple in design than raised panels.
---
Shaker Style Cabinet Doors
Shaker cabinet doors technically have a flat panel, but we think that they are special enough to get their own recognition. They are simple, clean, and can be adapted to fit nearly any kitchen style.
Shaker cabinet doors have a flat panel with simple inside and outside edges. Our Shaker cabinet doors have 2-¼" stiles and rails.
Do you like the shaker but wish it has just a bit more going on? Check out the Camden, Flagstaff, and Auburn. The Fiesta also makes a great arched companion to the Shaker.
---
Slab Style Cabinet Doors
Even though they are a single piece of wood, you shouldn't underestimate the slab door. They have many outside edge customization options and are easy to clean and maintain. Check out the Valencia cabinet door.
---
Thermofoil Cabinet Doors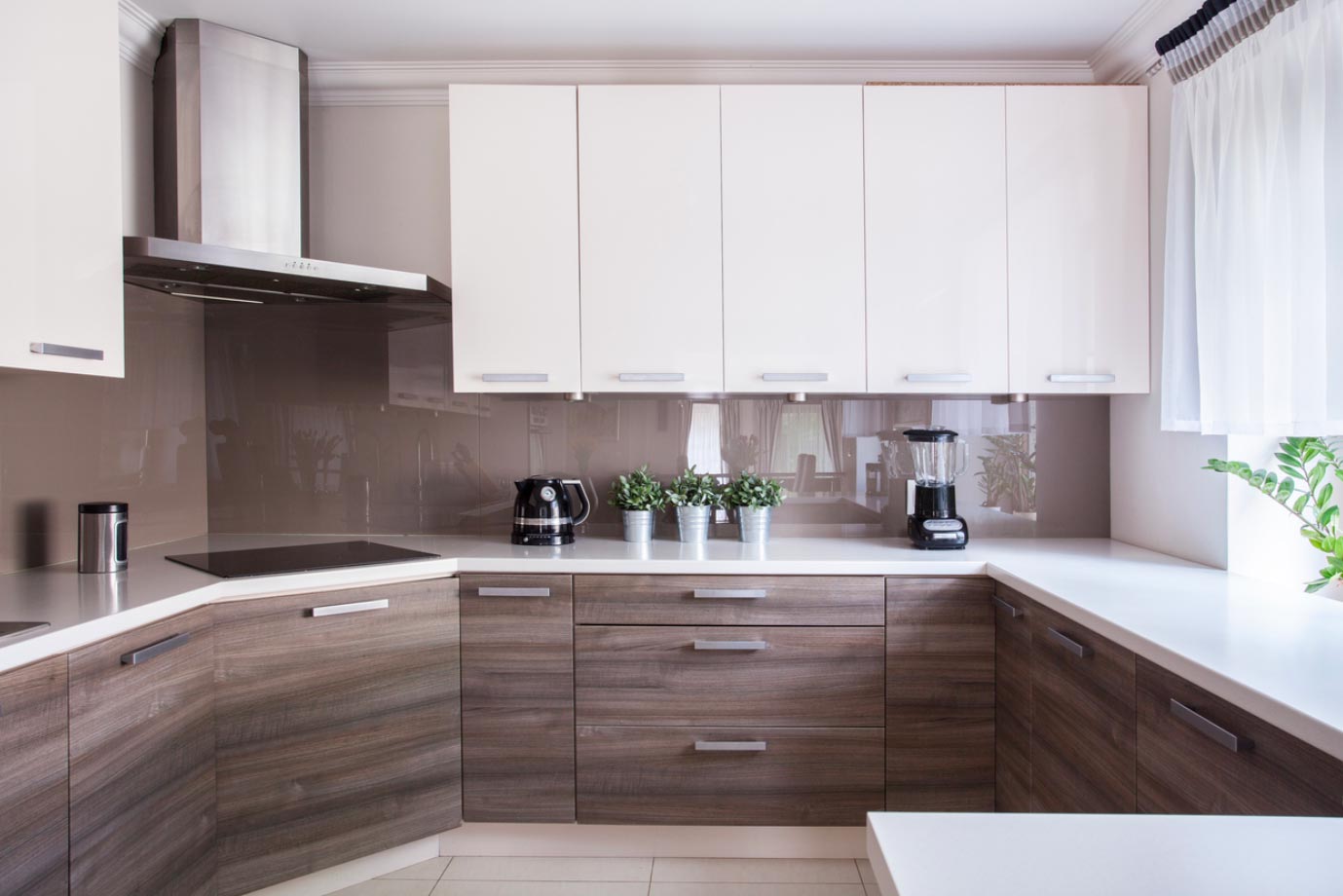 Thermofoil cabinet doors consist of a vinyl laminate that is heated and pressurized onto an MDF core. They come in raised, flat, shaker, and slab styles. Thermofoil doesn't have customizable outside edges, but it does come in a large variety of finishes.
---
Step 2: Customization Choices
Pick Your Finish
How do you plan to finish your cabinet door?
---
Choosing the Right Material
Most of our door styles come in a wide variety of materials. (Thermofoil always comes with an MDF core that has a vinyl laminate heated and pressurized onto it.)
Paint Grade: Due to natural imperfections—like mineral deposits or sap discoloration, Our paint grade is wood that is most suitable for painting. All MDF is paint-grade, but still cannot be stained.
Natural Grade: Natural grade wood can be clear coated or stained, but will not be perfectly even, as this wood may have natural discoloration. We love natural grade wood in rustic and industrial designs.
Select Grade wood is the most even and uniform in color and grain pattern. This is the best material for stain or clear coat.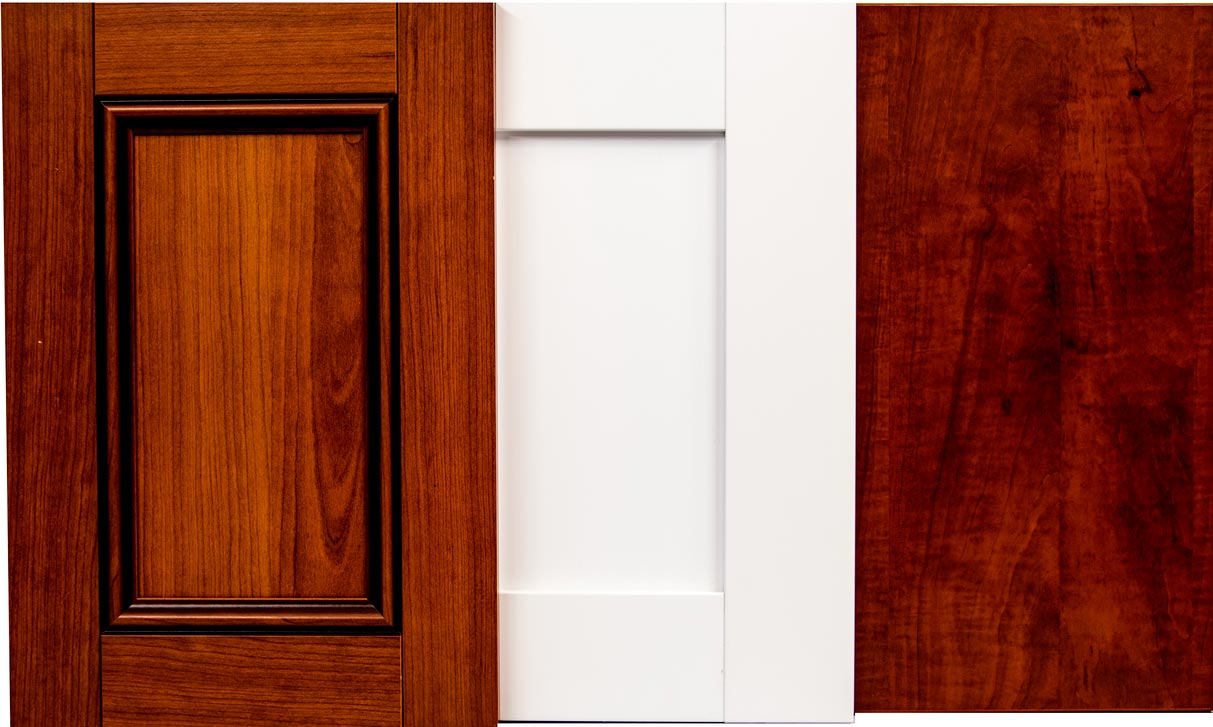 ---
Outside Edge Detail
We are proud to offer customizable outside edges on the majority of our cabinet doors and drawer fronts. Take a look at our outside edge guide to see all of the options available. Here are some of our favorite outside edges you may want to consider.
For those looking for something clean and modern, we recommend the OE1 or OE3. These profiles offer minimum design and will help highlight the straight lines and natural beauty of your space. For reference, our Shaker door has an outside edge of OE1.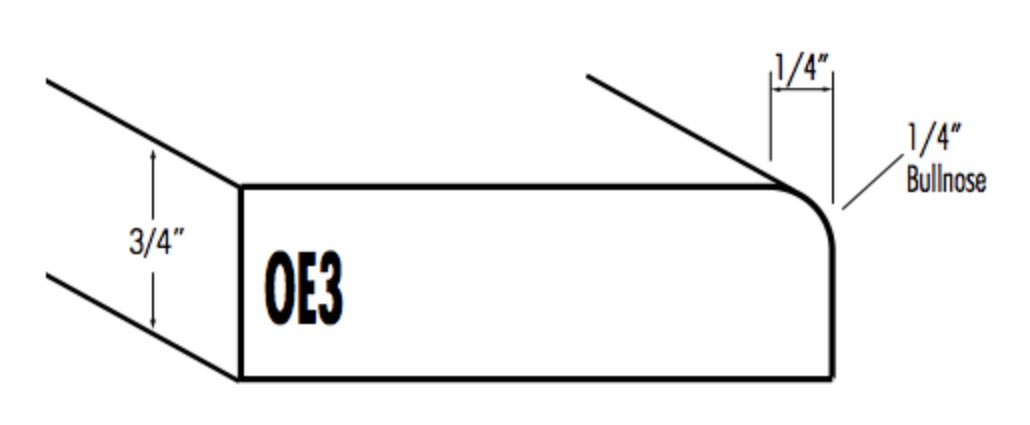 If you are looking for something that will add a level of interest to your space, we suggest the OE4 or the OE10. These edge profiles create a transition effect between doors with their gentle slopes. For reference, our Revere cabinet door features the OE4 outside edge.

Note that not all outside edges are available for every door due to varying door thicknesses and styles.
---
Open for Glass/Lites
Almost all of our doors can be customized to have a glass panel. There are several different glass cuts to choose from, including a single open panel for glass and 4-6-8 lites. No matter what design you choose, you will need to source a single glass panel and secure it with stops. We recommend our rubber stops because they are easy to install and uninstall. We do NOT offer glass panels.
---
Prebore/Hinges
On CabinetDoorMart, we offer pre-boring options for your cabinet doors. This way you don't have to worry about having boring equipment on site, and your doors will be ready for you to install the hinges when they arrive. That being said, understanding pre-bore measurements is extremely important to ensure your hinges and cabinet doors work for your particular project.
There are two measurements when it comes to our pre-boring. The first is bore placement. This is the distance from the top or bottom of the door to the center of the bore-hole (or cup), which for all doors will always be 3". The second measurement is called the bore distance. The distance is the measurement from the edge of the door to the closest point of the borehole (or cup), and we can make 3mm and 5mm bore distance cuts.
For each distance, we offer two different bore patterns. To decide between the patterns you need to decide your bore distance and the type of hinge you would like. If you want a cup and dowel hinge—which is easier to install and used for thermofoil doors—then you will need either bore pattern "A" or "B". Pattern "A" has a 5mm distance, while "B" has a 3mm distance.
If you want a cup only, which is a screw hinge and the choice if you want to reuse your own hinges, then you will select either pattern "T" or "U". These patterns differ in distance: pattern "T" 5mm, pattern "U" 3mm. These boring patterns are extremely important and are reliant on your hinges and overlay. If you need assistance, reach out to one of our highly qualified specialists today.
---
Step 3: Overlay/Inset Cabinet Doors
Partial Overlay
Easily one of the most popular layouts, partial overlay leaves a small gap between each cabinet door. Your cabinet door will only partially cover the cabinet front, leaving a bit of space with the cabinet face visible.
Full Overlay
Often used with slab-style doors, a full overlay design eliminates the space between the doors, which creates a seamless look to the cabinets. A Full overlay is a great look for modern or trendy style kitchens.
---
Inset
Whereas overlay style doors sit across the face frame of the cabinet box, inset doors are mounted inside the frame. This look is most often associated with traditional styles, but, when done right, it will look great in any space.
---
Step 4: Order Your New Cabinet Doors
Formulas You Will Need
Several useful formulas can be used to determine the exact measurements of your cabinets. From split doors to drawer boxes, our formulas will accurately determine your sizes. If you have any questions or need any assistance with the formulas, our trained inside sales representatives can help you with your order from start to finish.
Split Doors with Overlay: (Opening + (2 x overlay) / 2) - (reveal / 2)
Inset Split Doors:( Opening - (2 x reveal) / 2) - (reveal / 2)
Drawer Box: Opening - manufacturer specification for hardware
Manufacturers designate the amount of space needed for drawer glides and slides.
As a custom cabinet company, we can accommodate almost any project. If you need help measuring, picking the style or material, or placing an order, then give us a call, instant chat, or email and we will do our best to take care of you!
To see examples of these formulas used to size cabinet doors, check out our measuring guide!
---
Step 5: Final Touches on Cabinet Doors
Hardware is a great way to make your space truly unique. With countless options for style and material, choosing your knobs and pulls can be a difficult process. However, the large amount of variety means if you look long enough, you will find the perfect fit for your cabinets' style.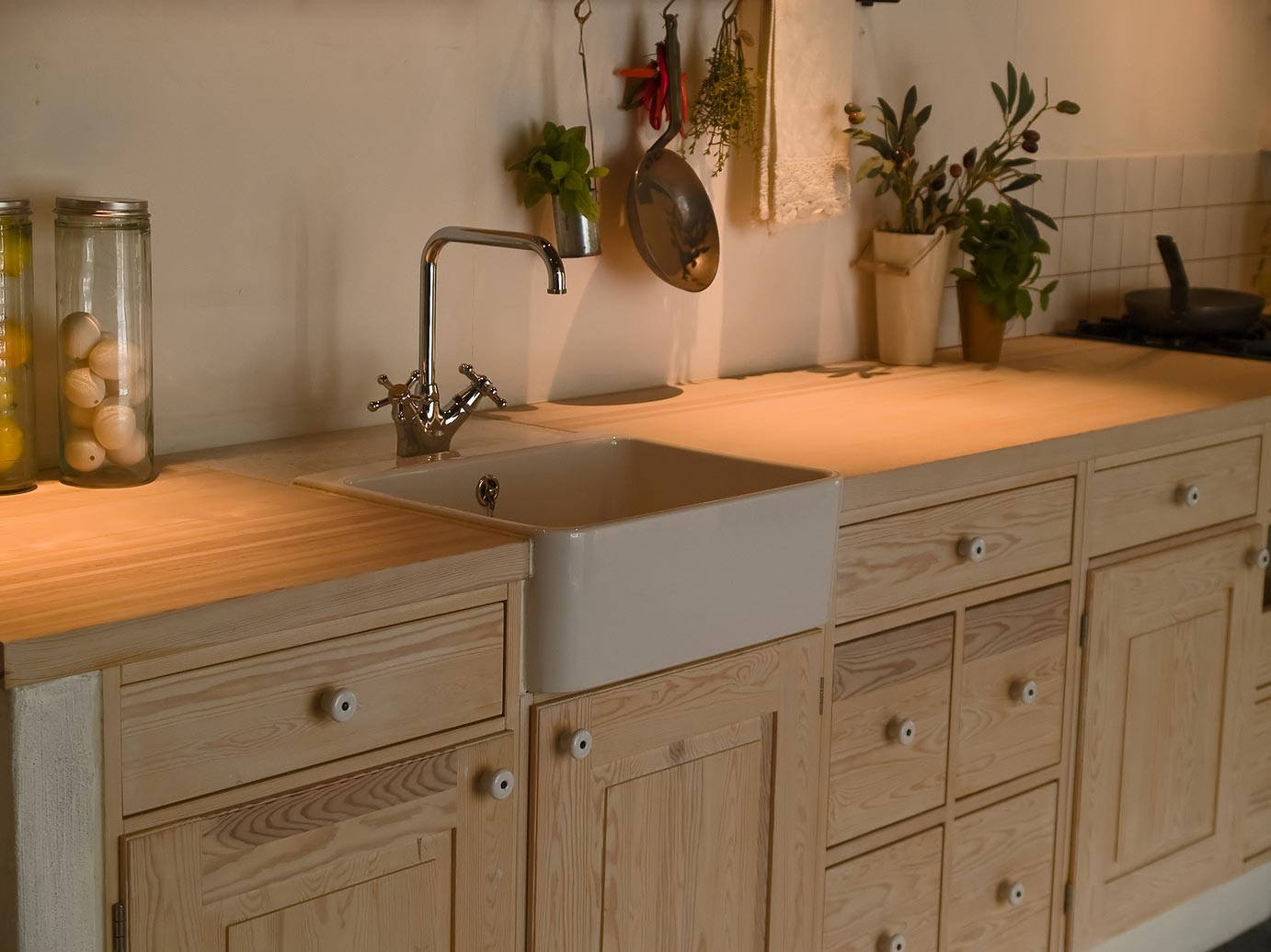 Have Questions?
We are here to help! Contact us by chat, email us at info@cabinetdoormart.com, or call us at 1-844-326-6680.