Posted by Admin on Apr 26th 2022
Replacing just your cabinet doors and drawer fronts is a great way to give your kitchen a complete makeover. Plus, when you just replace the cabinet fronts, your project will not be as costly as a full kitchen remodel. Saving time and money, refacing your kitchen cabinets gives your kitchen a fresh feel without the sometimes lengthy demolitions and installations associated with larger projects.
This all sounds great, but you may be wondering how to get started. If this is you, then you are in luck. In this cabinet blog, we are going to take a look at the steps to refacing your kitchen cabinets. Follow along for instructions on things like removing your cabinet door and drawer fronts to finding a new style for your kitchen.
---
Finding Replacement Cabinet Doors and Drawer Fronts
The first step in this project is to find the replacement cabinet doors and drawer fronts for your kitchen. These can be found in lots of different places depending on the needs of your project. For example, if you have stock-size cabinetry, then you can likely find replacements online and in stores. If, on the other hand, you need custom sizing, then you may have to find a woodshop or a site like ours, that is able to accommodate such a project.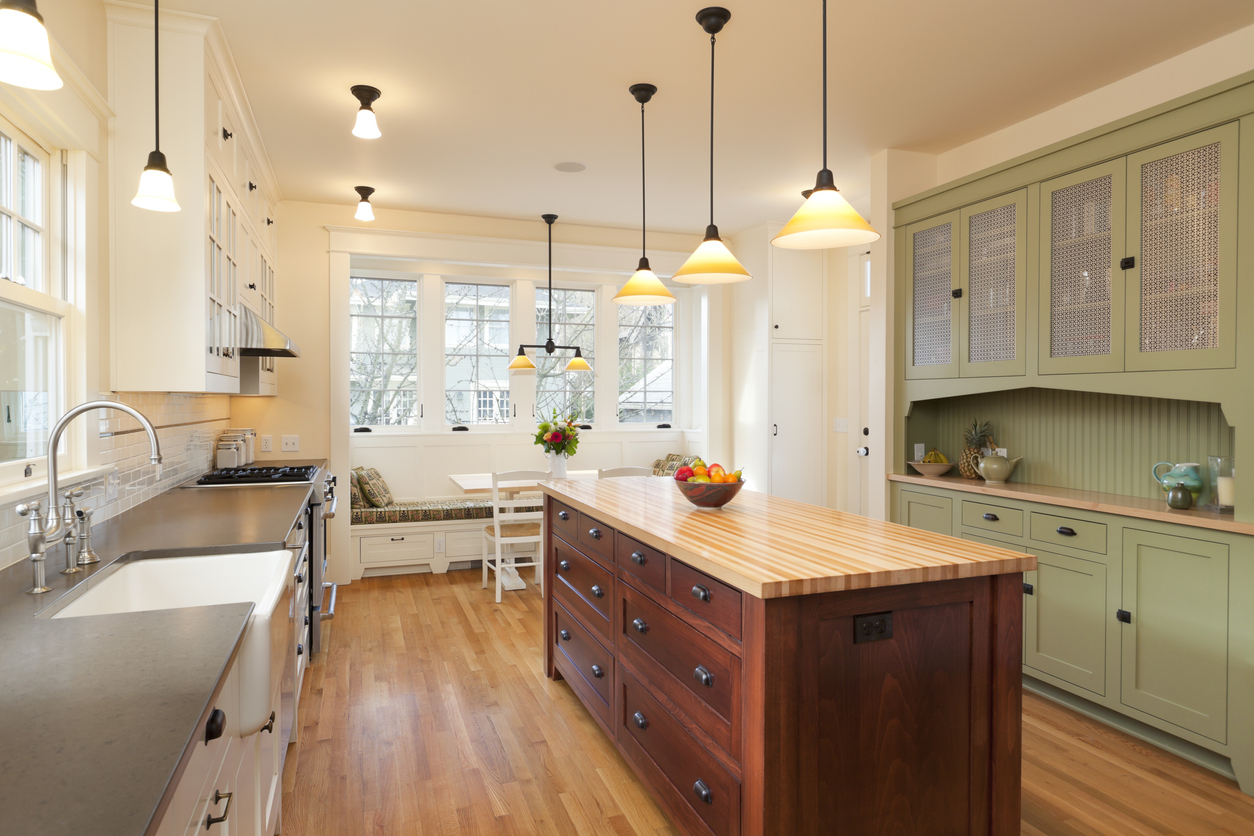 Aside from the sizes needed and their availability, your main concern when browning for your replacement cabinet doors will be style. During your cabinet refacing project, you can use the opportunity to change up your kitchen designs. This means that you do not have to order the same cabinet doors you already have unless, of course, you want to stick with a current style. If you are looking to match your existing cabinet doors with replacement doors, then you should check out our free door matching service. Simply submit a few photos and one of our US-based customer service professionals will match you with a style from our catalog.
If you are interested in browsing and finding something new, a helpful way to do this is by panel style. The three major categories are flat (or recessed), raised, and slab.
Flat Panel Cabinet Doors
Flat-panel cabinet doors are great for modern and transitional designs alike. These doors feature a recessed panel that is thinner than the door's frame. The frame may or may not have detailing around the inside or outside edges. These styles of cabinet doors can be great for creating straight lines to give your kitchen design structure.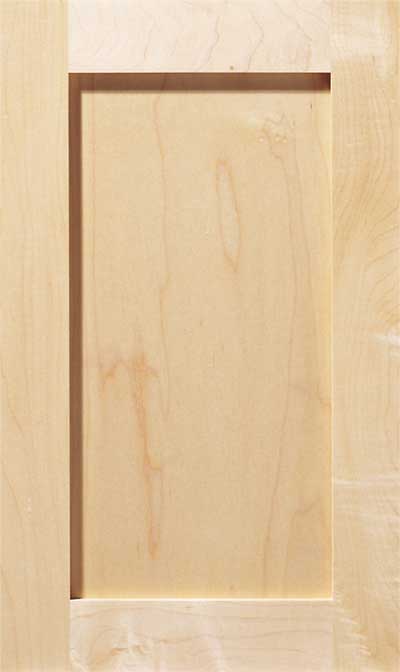 The most well-known example of this style is the Shaker cabinet door. Named for the religious community that first crafted them, shaker cabinets have long been popular and are not going anywhere anytime soon. With a sleek design, these cabinet doors and matching drawer fronts can be great for a trendy modern look or even a cozy farmhouse vibe.
Raised Panel Cabinet Doors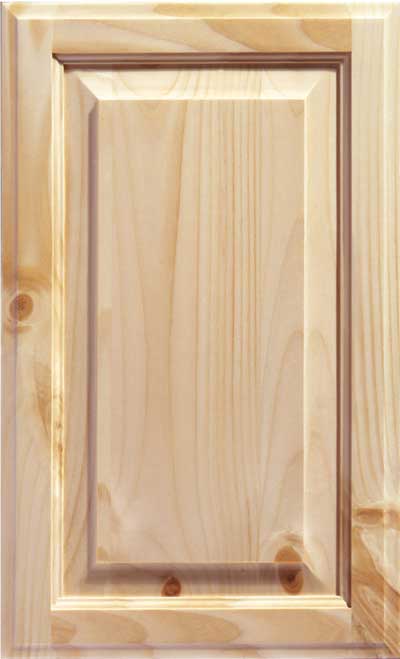 As you might expect, raised panel doors feature a panel that is the same thickness as the surrounding frame. This style of cabinet doors and drawer fronts is typically found in traditional designs. This is because traditional designs tend to highlight ornate detailing, which is a feature of many raised panel cabinet doors. These detailings can include things like applied moldings, louvers, or rope detail. However, in more contemporary raised panel cabinet doors skip many of these more extravagant options and instead stick with more subtle profiles.
One of our favorite raised panel designs is the Eagle cabinet doors. These doors feature a sturdy raised panel surrounded by subtle yet sophisticated detailing. The Eagle cabinet door is a great choice for those looking to do more traditional stained finishes. Stain finishes are a great way to highlight the natural beauty of the high-quality material used for construction. In addition, a rich, dark stain paired with the raised panel design is excellent for creating stunning designs.
Slab Style Cabinet Doors
Slab cabinet doors do not have a panel, as you might have guessed, and instead, the surface is all the same thickness. This style of door is often found on the two ends of the interior design spectrum: modern and traditional. Since there is so little detail when it comes to slab cabinet doors, you will instead need to rely on color and material for stylistic statements. Naturally-finished slab cabinet doors and drawers can be a great choice for more traditional styles.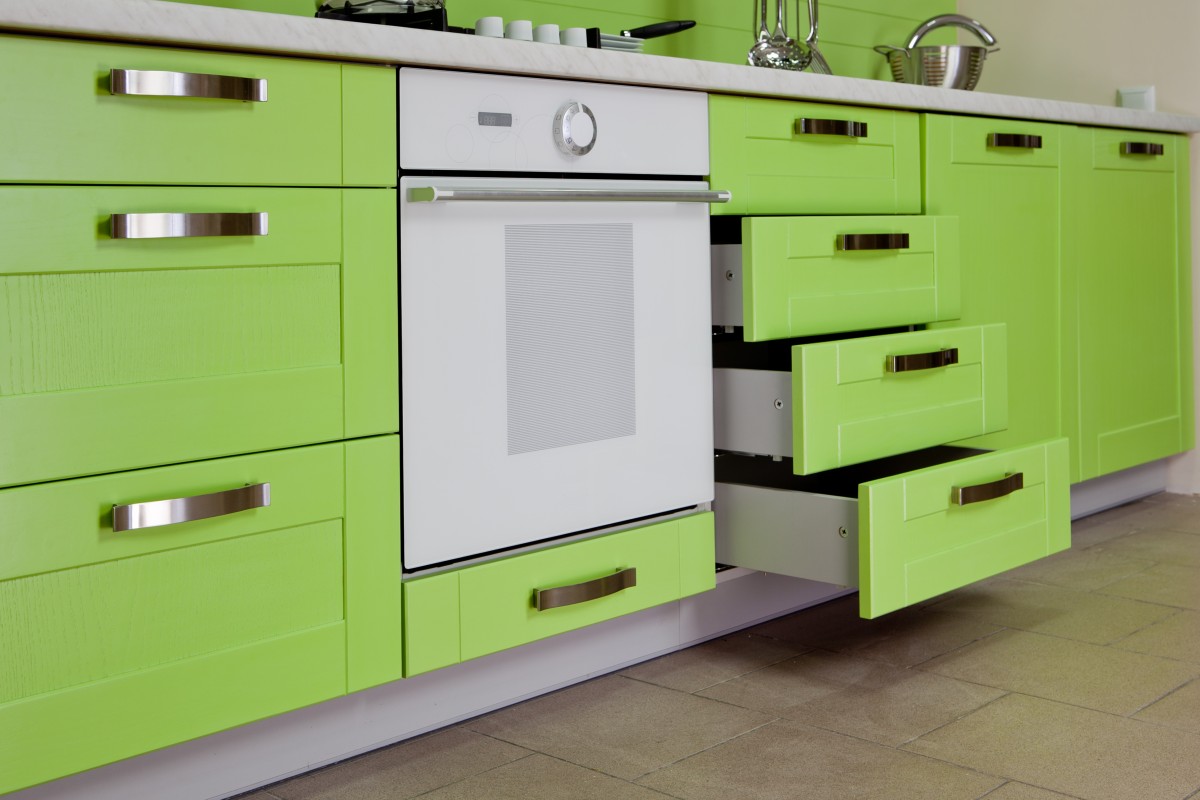 In more modern applications, slab-style doors are finished with bright pops of color to create exciting spaces. Thanks to engineered products like thermofoil, slab-style cabinets can be made in a wide variety of trendy colors like navy blue or aloe green. In addition, thermofoil is also available in eye-catching wood tones that can be great for an updated traditional aesthetic.
---
Removing Kitchen Cabinet Doors
Once you have your style picked out and your replacement doors and drawer fronts on the way, you can start prepping by removing the cabinet doors and drawer fronts currently in your kitchen. This way, when your new cabinet doors arrive, you will be ready to get started installing them. To remove your cabinet doors, head over to your cabinet box and locate your hinges. Then, grab a screwdriver or drill with a corresponding bit. Next, unscrew the hinge from the cabinet door. You may need to push the hinge out of its cup if they are a bit snug.
For your drawers, you will need to determine if they are constructed from a separate drawer front and drawer box or if the drawer front and box are connected. If they are separate, you can remove the front from the drawer box relatively easily with your screwdriver or drill. If they are a single unit, you will need to get a saw. You can use a saw to trim the front of the drawer to be the same size as the back wall. Then, you can attach your new front to the back wall and then remount the drawer box.
Pro-Tip
Label everything! Nothing is worse than not being able to find the necessary screws or hinge to get your doors back up. We recommend labeling everything that will be re-used with exactly where it goes. This way, when it comes time to hang your replacement cabinet doors, you will be ready.
---
Finding a Finish for Your Cabinet Doors and Drawers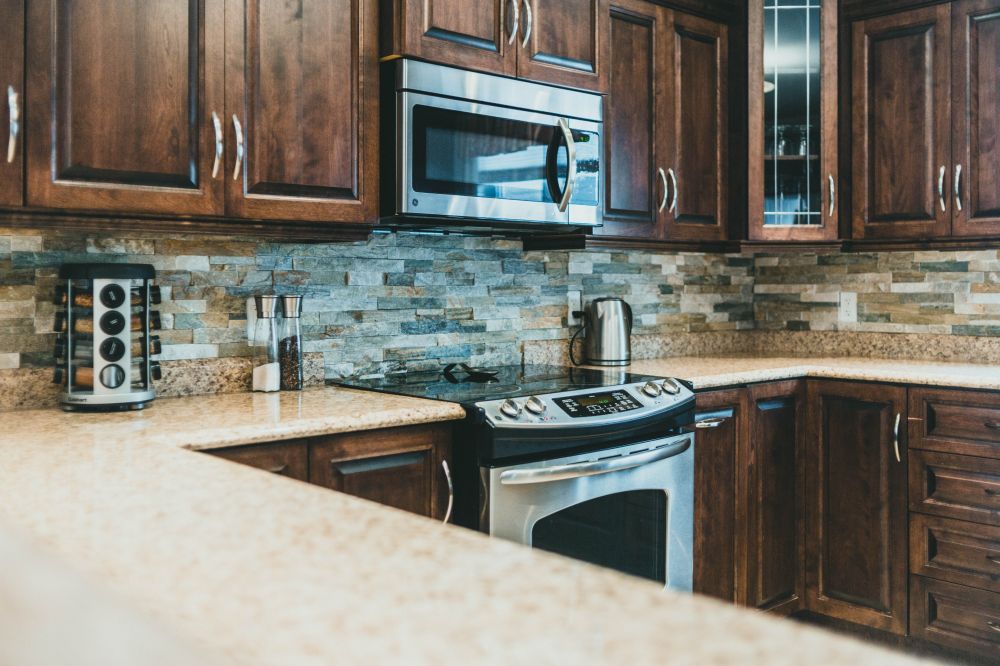 Finally, you will need to finish your new cabinet doors and drawer fronts if you choose to order them unfinished. Unfinished simply means that they have been sanded and are ready for paint or stain. You may also be applying a new finish to your cabinet boxes during this project so that they match your new fronts. Luckily, you will already have the doors and drawers off the box at the stage, because this will make it much easier to paint the boxes. Applying finish to your new cabinet fronts is a very important last step, as your finish provides a protective coating to keep the surfaces of your fronts safe. Plus, properly cleaning and maintaining your cabinets is one of the best ways to make sure they last their full lifetime.
---
Finishing Up with Replacement Cabinet Fronts
Refacing your kitchen cabinets, or just replacing the cabinet doors and drawer fronts, is a great way to give your kitchen a new look without breaking the bank. However you choose to go about it, it is always important to do your research and have a solid plan going in. To help you with your planning and research, check out the articles in our blog section. They cover everything from pricing cabinet doors to adding glass panels to your cabinet doors.
If you are ready to start ordering or if you need assistance, please feel free to call us at 1-844-326-6680 or send us an email at info@cabinetdoormart.com. Our team of cabinet experts is here to help with everything from measuring to ordering.