One of the most important parts of a kitchen remodel is the schedule. Knowing exactly when each task will be completed is a great way to stay on schedule and within budget. However, while you may have each project planned, have you thought about how the time of year can impact your kitchen remodel?
Strategically planning when you want to remodel your kitchen can help you save money during your kitchen remodel. This has to do with the seasonal demand for labor and when various suppliers are running discounts or sales on things like cabinet doors and cabinet boxes. In this blog, we are going to examine a few things and times you should consider when planning your next kitchen remodel.
---
Discount Opportunities
Throughout the calendar year, companies typically run seasonal sales. This can be a great time to pick up your remodeling supplies and save some money. You want to be sure to be checking your spam folder, as many companies will announce sales through email. Let's take a look at some of the best times to find deals.
Black Friday & Cyber Monday: We are all familiar with people camping out and waiting in long lines on Black Friday to get the best deal on the latest products. Many people are surprised to learn that Black Friday deals and savings can also extend to things like cabinets. Cyber Monday can also be a great time to snag a deal for those who keep their eyes open.
Christmas: Remodeling during the Christmas season is not typically a popular choice, as people have visitors and vacations planned. This low demand can sometimes lead to deals or bargains in both materials and labor.
Holiday Discounts: Another common trend is for companies to run sales around holidays. From Presidents' Day to Labor Day, it can pay to keep your eyes peeled for the next big deal.
---
Make a Plan For Your Remodel
In addition to selecting a time to purchase your cabinets and carry out your remodel, you will also need a plan for each task. The order you intend to carry out each task will impact what materials and tools you will need on-site. Plus, having a solid plan upfront will help you avoid mistakes. Here are some kitchen remodel tips for our experts:
Do Your Homework: This is likely the most important piece of advice for a kitchen remodel. You will need to do your research on the supplies you need, where you will get them, the amount of labor you are hiring, the type of labor you need to hire, and many other elements. Not being prepared at each stage of your kitchen remodel can cost you both time and money.
Pick An Affordable Wood Species: For those looking for more budget-friendly options, opt for engineered building materials. MDF cabinet doors and drawer fronts are a great way to cut costs without sacrificing durability. MDF stands for medium-density fiberboard and it is among the most sought-after building materials in current use. One great benefit of MDF is that it does not bend or warp at larger sizes like solid wood. In addition, we MDF as the core for our thermofoil cabinet doors and drawer fronts.
---
Best Season For Kitchen Remodel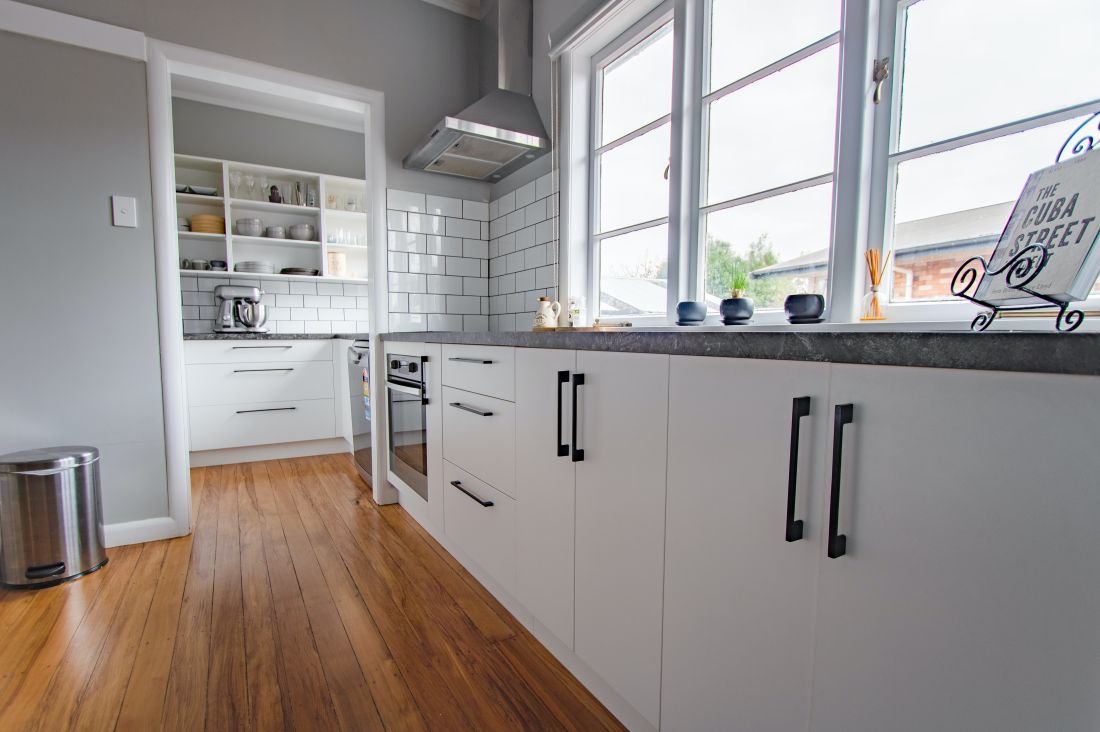 The season you choose will have an impact on your kitchen remodel. Unfortunately, there is no one "best" season for your kitchen remodel, as each has its own unique benefits and drawbacks. We have done our best to work up this quick list to give you an idea of what to expect:
Winter: For areas that experience harsh winters, a winter kitchen remodel could be pretty unpleasant to downright unrealistic. However, these are the months that often have the slowest business for contractors. What this means is that you are more likely to be able to quickly get your contractor scheduled, and you might even get a slight discount as it is the "off-season" for most contractors.
Spring: Spring is often a time when the weather is not too hot and not too cold. This is why it is one of the more popular times for planning a remodel project, as excessive heat can be as unbearable as excessive cold. And so, this time of year offers a pleasant working environment. However, this means that you may have more difficulty scheduling professional help since so many other people will also be planning their kitchen remodeling projects.
Summer: The summer can be an excellent time to remodel your kitchen, as the longer days mean you have more daylight to work. However, if you have children, not having a functional kitchen for several days could be a major inconvenience. In addition, the hotter weather means you will need to stay on top of your hydration.
Fall: With no major holidays and the kids back at school, the fall can be a great time to schedule your kitchen remodel. The cooler weather can make the work less draining and grueling. Plus, it is the perfect time to get your kitchen holiday ready to impress all your friends and family that come to visit!
---
Final Thoughts
Just like there is no one perfect kitchen design or style, there is no one-size-fits-all approach to remodeling your kitchen. You and your home are unique, and so will your kitchen remodel. This is why the planning stage is so vital to a successful project. Understanding the needs and requirements that your project has for your particular kitchen is a great way to make sure everything will fit and get done on time.
If you are ready to start ordering or if you need assistance, please feel free to call us at 1-844-326-6680 or info@cabinetdoormart.com. Our American-based team of experts is here to help with everything from measuring to ordering.