Posted by Admin on Apr 12th 2022
There is no denying it. Shaker cabinet doors are just about everywhere you look and they are not going anywhere. Shaker cabinets are one of the most well-known and recognizable cabinet door designs on the market. However, the classic shaker-style cabinet door isn't everyone's cup of tea. And so, it should be no surprise that this style that has remained so popular has also been adapted and experimented with by interior designers.
Today, there exists a wide variety of shaker-inspired cabinet door designs. These updated shaker doors take advantage of things like engineered materials to create trendy colors and designs (don't worry, more on this below). In this guide, we are going to take a look at what made the shaker cabinet doors so popular and how they are being re-imagined in the present day.
---
Shaker Cabinet Doors Then
Shaker-style cabinet doors trace their history all the way back to the end of the 18th century. A religious group commonly referred to as "Shakers" established themselves in the United States and began creating communities. These communities were designed to be sustainable and minimalistic. Both of these features were important to the Shakers' way of life, which prioritized modesty, honesty, and hard work.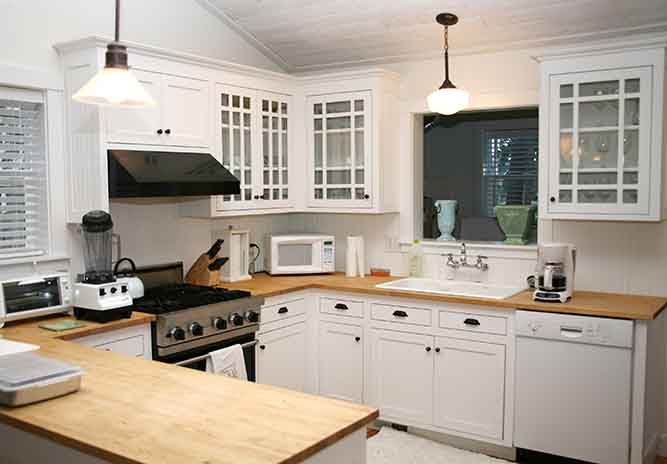 And so, it should be no surprise that the various products produced by these communities were of high quality. This included their cabinetry. Taking one look at a traditional shaker cabinet door, it is clear that the design is heavily influenced by minimalism. The doors feature no detail on the edges or panels. The only detail that is occasionally present on these doors is the lines created by the joints. When unfinished or stained, you can often see the 90-degree angle created by the cope-and-stick joint used to build the door. These joints are often referred to as butt joints and are a common method for cabinet construction.
---
Classic Shaker Style
Maybe people opt for the traditional shaker cabinet door for their kitchen or bathroom design. This can be a great choice for a variety of design aesthetics. For example, shaker cabinet doors are often used in farmhouse kitchen design. In this style, you will likely find the cabinet doors painted in a bright white or possibly a light blue. In these colors, the shaker is perfect for creating a light and airy appearance that still has the coziness we expect from farmhouse designs.
Alternatively, classic shaker doors can be stained for stunning effects. This design falls into the traditional kitchen category with its emphasis on construction and quality of materials. Stain finishes highlight the beauty of the natural material, which we have several to choose from, and also bring the details of the joint construction into focus. Darker stains can also be used to create rich, sophisticated kitchen designs.
Transitioning to the Present Day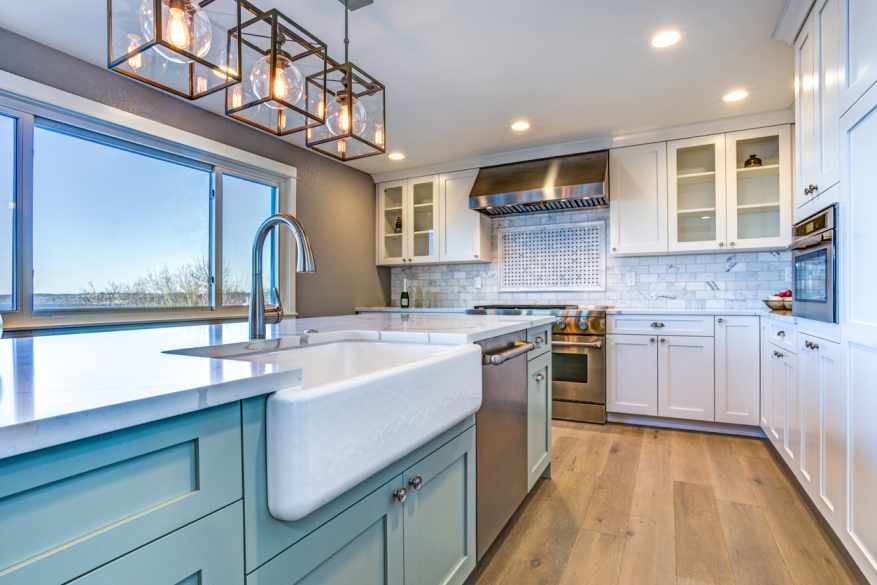 If you love the shaker style but don't want to go completely traditional or modern, then the Shaker has something for you too. The versatility of the shaker design allows it to easily be worked into those transitional designs that fall somewhere between tradition and innovation. To accomplish this look, try painting your shaker cabinet a white or off-white color and pairing them with minimalist hardware. The way you finish styling the rest of your kitchen and decore will give your kitchen design the rest of its shape. What is great about the white shaker cabinets is that they go with so many different styles that you can constantly change your kitchen design without refacing or repainting your cabinets.
---
Modern Shaker Cabinet Doors
Even though the classic shaker isn't going anywhere, this hasn't stopped interior designers and cabinet makers from attempting to create the next shaker. To do this, they take the traditional shaker cabinet door design and then reinterpret it for a modern audience. If you are looking to create the next trending design, a more modern shaker-style cabinet door could be for you.
One particularly exciting part of contemporary shaker cabinets is the array of colors that are now available. While there is no denying it is difficult to top the white shaker, there is something to be said for the increase in popularity of sage greens and blues in the kitchen.
Our line of modern shaker cabinet doors utilizes thermofoil to wrap the doors. Thermofoil is a vinyl laminate that is heated and pressurized onto a medium-density fiberboard core. Since these are engineered materials, the color and texture options are much broader. These bold and exciting colors bring the new shaker designs to life in unexpected ways. Let's take a look at our favorite 3 modern shaker door designs.
Shaker Inset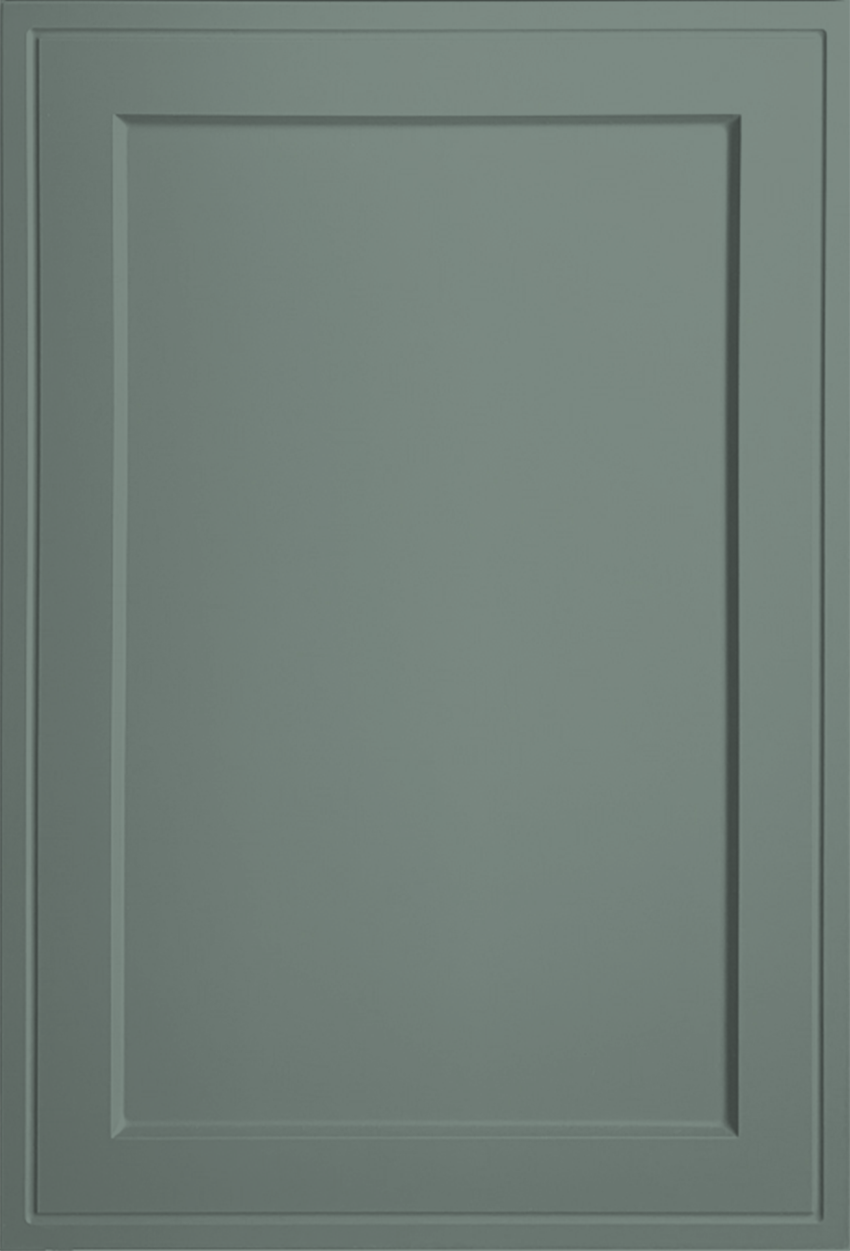 Inset cabinet doors are classic. However, installing inset cabinet doors can be more expensive than doors with a full or partial overlay. The installation process can also be more difficult, as you are working to fit the cabinet door inside the opening leaving only fractions of an inch to spare.
The shaker inset modern thermofoil cabinet door offers an inset look without the tricky installation. These doors feature the traditional shaker cabinet design surrounded by an additional frame. Due to the detailing, there appears to be a gap between the "shaker door" and this additional frame, which when hung properly on your cabinet boxes, can create the illusion that your doors are inset.
Shaker Slim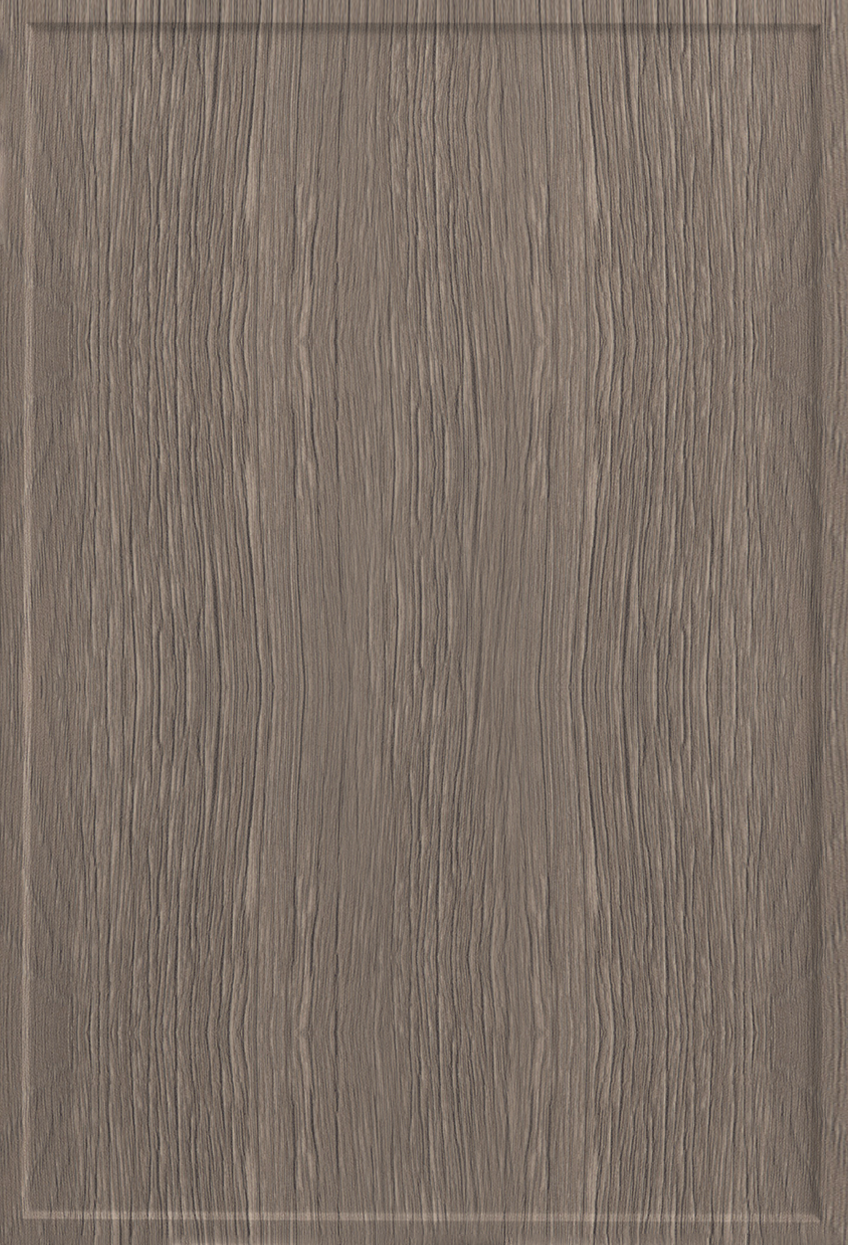 Moving in essentially the opposite direction, the shaker slim features a traditional shaker style, but the stiles and rails have been reduced to a little more than half an inch. The stiles are the vertical pieces of the cabinet door frame while the rails are the horizontal pieces. For perspective, our traditional solid wood shaker cabinet door has stiles and rails that measure 2.25" wide.
The shaker slim modern thermofoil cabinet door takes the minimalism that made the shaker door a staple and took it a step further. These ultra-thin stiles and rails are perfect for full-overlay installation and creating visually engaging lines. The shaker slim cabinet doors can be a great choice for any modern kitchen or bathroom design.
Shaker Doors Meet Beaded Panels: The Bradford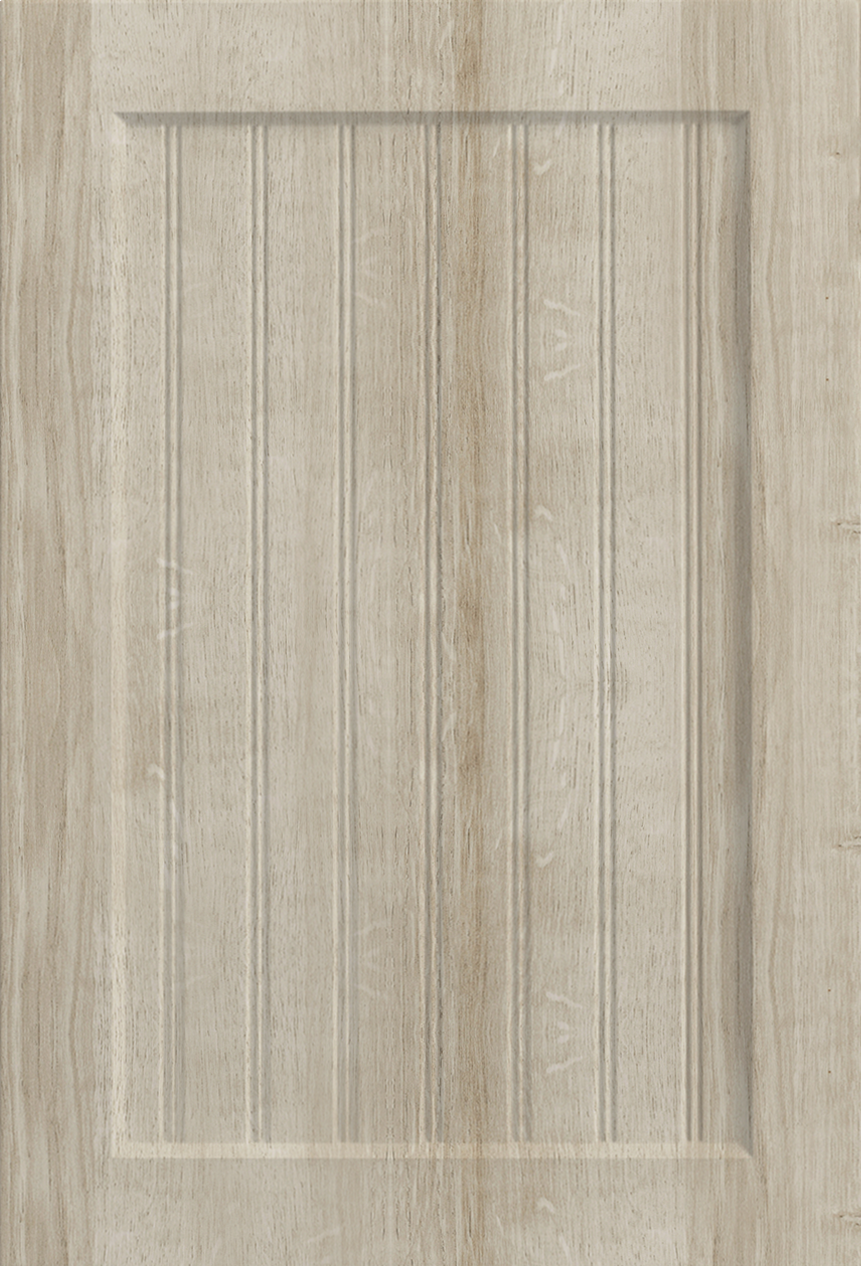 The last door we want to highlight today doesn't go by the name Shaker like the two previous doors. Instead, we have the Bradford modern thermofoil cabinet door. This design, like the two above, begins with the traditional shaker cabinet door and then adds new elements to give it a modern spin. The Bradford goes a step further than the Shaker slim or inset and adds a beaded panel to the design.
Surrounded by 2" stiles and rails, the Bradford modern thermofoil cabinet door features a panel with vertical beaded detailing that gives the appearance of wood planks. In addition, this design also adds subtle detail to the inside edge of the frame that gently slopes down. These details create a lot of eye movement and interest. Whether you choose rustic light oak, navy blue, or antique white, the Bradford modern door is sure to make a statement in your kitchen or bathroom design.
---
Final Thoughts
The shaker cabinet door has come a long way since it was first introduced. Over time, the shaker design has largely stayed the same, as its insistence on minimalist design is almost always in style. It is truly impressive how ubiquitous and popular shaker-style cabinet doors have been and still are, which probably answers the question of why it is one of our best-selling cabinet doors.
If you are ready to start ordering or if you need assistance, please feel free to call us at 1-844-326-6680 or send us an email at info@cabinetdoormart.com. Our team of cabinet experts is here to help with everything from measuring to ordering.