Posted by Admin on Mar 15th 2022
Nothing says stylish tradition like stained kitchen cabinets. While paint can be used to introduce trendy colors or bright whites in your kitchen, it will also completely obscure the natural beauty of the material and its stunning craftsmanship. In addition, stains are available in a variety of shades and even some colors, so finding the perfect one for your kitchen cabinets won't be too difficult. In this quick guide, we are going to run through the steps for staining your kitchen cabinets.
---
Why Stain Cabinet Doors?
Staining your cabinet doors can be a DIY-friendly project if you do a bit of research before you get started. If you try to rush through this project, you may end up with a spotty, uneven finish. Unlike paint that sits on top of the surface, cabinet stain sinks into surfaces. This means that you cannot stain materials like MDF.
Before you start applying your chosen stain, it is a good idea to practice on some scrap wood. It is especially important if this is your first time applying stain to cabinets.
---
Supplies for Staining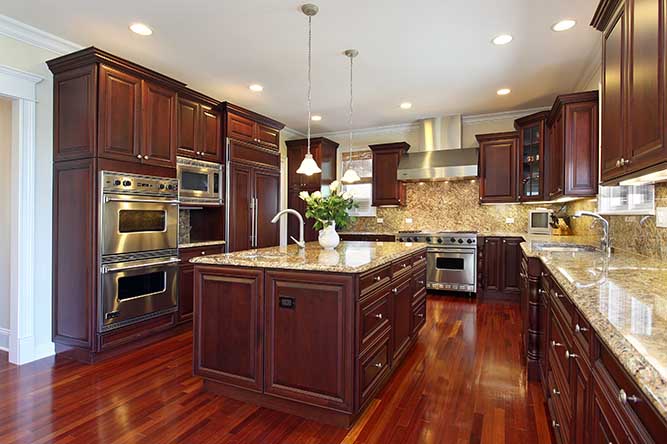 Before you can get started on this project you will need to gather some supplies. Like with painting, the best results are produced when you use a sprayer for the application. You should also make sure that you have drop cloths or something similar to put down to protect any surface that is not being stained. Here is what you will need:
120 grit sandpaper
220 grit sandpaper
Wood conditioner
A paintbrush (to apply the conditioner)
Wood stain
A rag (to apply the stain)
Polyurethane
Drop Cloth
---
Steps to a Stain Finish
As you prepare your space to begin working, be sure you have proper ventilation and have any surfaces not being worked on protected. For ideal results, you will want to be sure the temperature is around 70 degrees Fahrenheit with around 50-70% humidity.
1. Sand
To begin this project, you will first sand down all the surfaces that you plan to stain. Depending on the state of your cabinet doors and cabinet boxes, this step may take some elbow grease and time. It is important to start with course sandpaper, which is typically around 80 to 100 grit. Work your way up to fine-grit sandpaper of around 220 grit. Before moving on, be sure to wipe away any and all debris.
If you ordered your new cabinet doors from CabinetDoorMart, then they will arrive already sanded to a 22-grit and will be ready for finishing.
2. Wood Conditioner
Now that your kitchen cabinets are all sanded smooth, you will need to apply a wood conditioner. Similar to the relationship between paint and primer, wood conditioner acts as a base for the stain. You will need to wait at least 30 minutes for the wood conditioner to completely dry before applying the stain.
3. Apply the Stain
As mentioned above, the preferred method to apply a stain finish is to use a sprayer. However, these tools can expensive to buy and can have a steeper learning curve. For most homeowners, this means that you will be applying stain using a rag. You should wipe the stain along the grain pattern to ensure an even coat. Any excess stain should be wiped away in the direction of the grain.
In the proper conditions, it will take around 1-2 days for the stain to completely dry. While your cabinet doors and other surfaces dry, it is important to keep air circulating. This will help your doors dry faster, and it will also help with the odor. Also, be sure that no dust or debris settles on the doors, as these can become sealed to the surface.
4. Don't Forget the Polyurethane
After the stain fully dries, you are one step away from your beautiful new kitchen. The last step is to apply a protective coat of polyurethane. You should continue using a well-ventilated workspace for this step and keep all the surfaces free of any dust or debris.
---
Finishing Up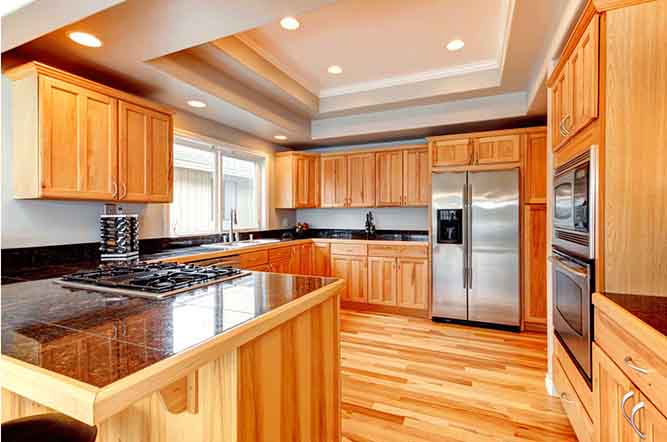 Hopefully, this quick guide gave you some confidence in tackling your staining project. It will likely be a bit tricky if it is your first time, but remember to practice first and take your time. Even though this process will take time and effort, the results will be worth it! A new finish can completely change the aesthetic and feel of your kitchen.
If you are ready to start ordering or if you need assistance, please feel free to call us at 1-844-326-6680 or email info@cabinetdoormart.com. Our team is here to help with everything from measuring to ordering.