Posted by Admin on Jan 13th 2022
When we think of style and kitchen design, it is easy to overlook how important your choice of kitchen cabinet doors actually is. Where you choose flat or raised panels, glass doors, or arched doors will play a large part in the look of your final design. However, it can be difficult to which style would work best for your kitchen design when there are so many options.
At CabinetDoorMart, we want to take the time and ensure our customers have the utmost confidence in their purchases. And so, we are going to take a look at 5 broad categories for defining cabinet door style. This way, you can start your search ahead of the game. If you are ready to find your cabinet door style for your next kitchen remodel, cabinet refacing project or even a bathroom remodel, then check out this blog!
---
5 Glass Cabinet Doors
Glass cabinet doors are a great way to inject style and depth into any kitchen design. Opting for glass panel cabinet doors for your kitchen design adds depth because you are now about to see to the back of the cabinet box, glass cabinet doors extend the lines of sight in your kitchen making it feel larger. However, you will need to keep these cabinets clean and free from clutter to enjoy this benefit.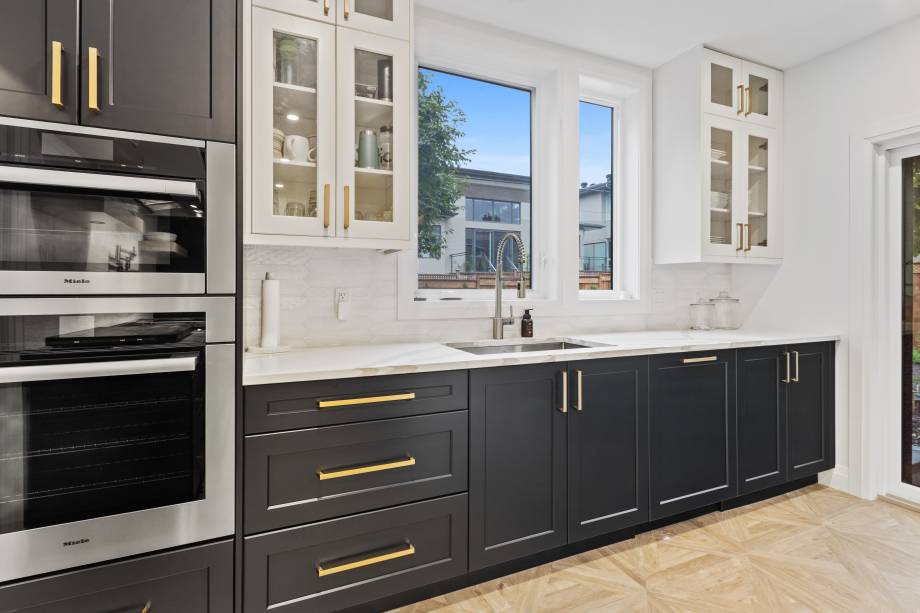 French lites can be an excellent way to upgrade your glass cabinet doors. French lites are horizontal or vertical (or even decorative) mullions that create grids or designs for your glass cabinet doors. At CabinetDoorMart, we offer designs that feature 4,6, and 8 French Lite configurations.
---
4 Arched Cabinet Doors
Arched cabinet doors are perfect for adding sophistication and tradition to your kitchen designs. Arched doors are available in both recessed and raised panel styles, so coordinating a square and arched cabinet door won't be an issue. Typically, when combining arched and square cabinet doors, you want to install the arched cabinet doors on your wall cabinets with the square cabinet doors are on the base cabinets.
---
3 Raised Square Panel Cabinet Doors
If you are interested in creating traditional kitchen cabinet designs, then you should browse our raised panel cabinet door options. Raised panel doors feature a detailed frame surrounding a panel that has the same thickness as the frame. While not always the case, many raised panel doors will feature ornate detailing.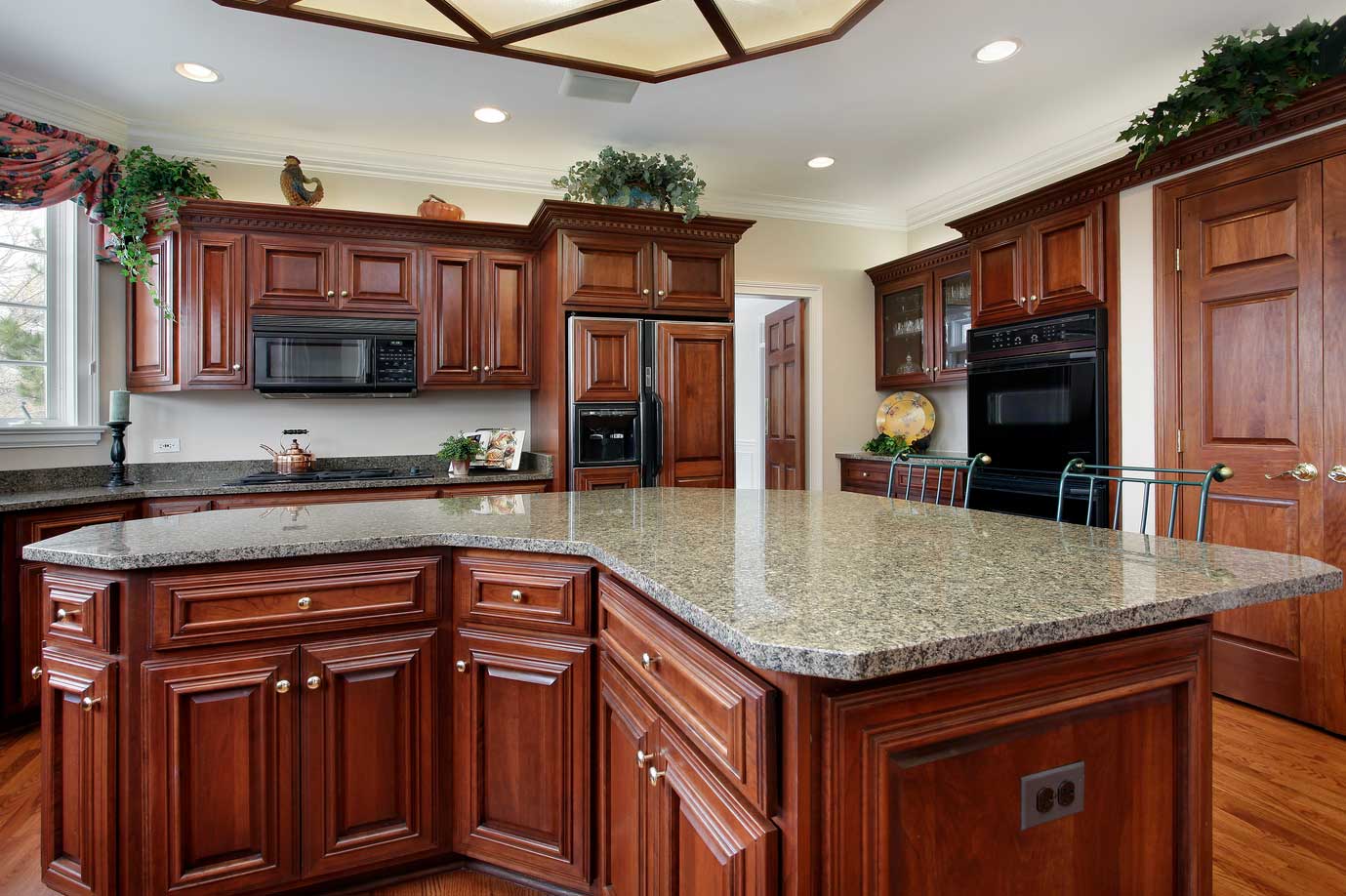 And so, if you are interested in this style of the cabinet door, then we recommend you start with the Revere Cabinet Door. The Revere cabinet door is one of our favorite raised panel designs. It features a stunning frame with engaging inside and outside edge detail. In addition, it also features a beautifully designed frame and superior construction. Opt for one of our select wood grades and a stain finish to create a classic kitchen design that will last for years to come.
---
2 Recessed Square Panel Cabinet Doors
Recessed square panel cabinet doors have been one of the more sought-after designs in recent years. These doors feature a sleek flat-panel surrounded by a detailed frame. The level of detail on these doors varies widely from the most minimalistic to the most ornate. For example, a stunning example of an ornate recessed panel cabinet door is our Woodhaven cabinet door. This door features a gorgeous rope detailing surrounding the panel with a mitered joint construction for added interest.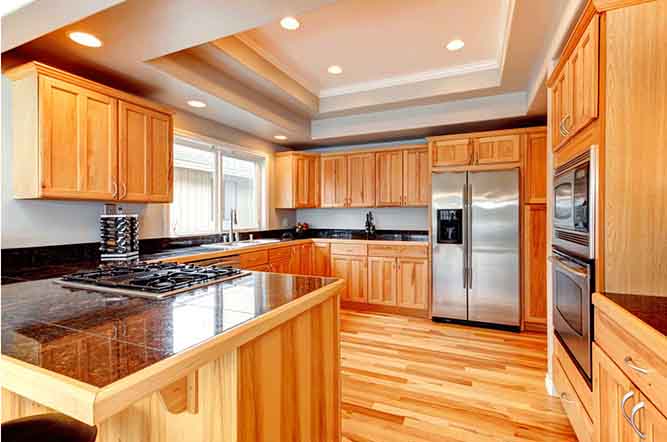 On the opposite end of the recessed panel cabinet door spectrum is the Shaker cabinet door. The Shaker cabinet door features a recessed panel surrounded by a minimalistic frame. The Shaker door utilizes only straight lines to highlight the strength and quality of the construction. These doors can be perfect for traditional and transitional kitchen designs alike.
---
1 Slab Cabinet Doors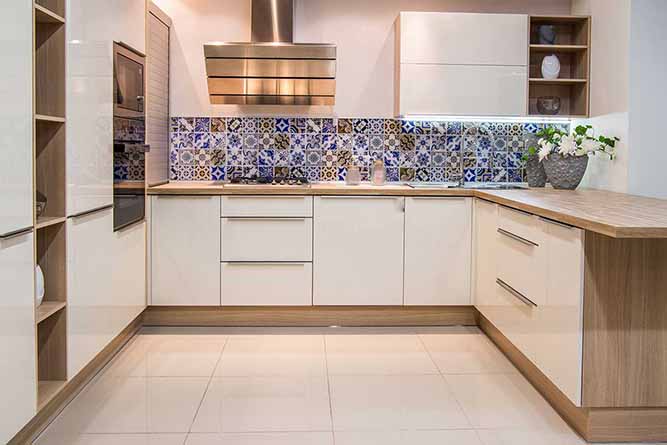 One of the most ubiquitous cabinet door designs is slab cabinet doors and drawer fronts. Slab-style cabinet doors and fronts do not have a panel like the other door styles we have discussed thus far. Slab-style doors can be made from both solid woods and composite materials, so finding the right style won't be an issue. Often, slab cabinet doors are mounting with a full overlay, meaning that you cannot see any of the cabinet boxes when the cabinet doors are closed.
Slab cabinet doors and drawer fronts are perfect for creating modern kitchen designs. For the latest trendy colors and designs, check out our thermofoil slab door offerings. Thermofoil is a vinyl laminate that is heated and pressurized onto an MDF core. These doors arrive fully finished so you don't have to worry about ordering any paints or stains. Check out our Modern Thermofoil offerings to really take your kitchen designs to the next level.
---
Finishing Up
Finding the right cabinet door design for your kitchen can be a process, but knowing where to start can give you a great headstart. Filtering your search for your new or replacement kitchen cabinet doors by the door style is one of the quickest ways to see styles relevant to your design.
If you are ready to start ordering or if you need some assistance, feel free to give us a call at 1-844-326-6680 or an email to info@cabinetdoormart.com. Our cabinet experts would love to help you with everything from measuring to assembly.