Posted by Admin on Feb 15th 2022
Bathroom vanities are key to creating functional and comfortable bathroom spaces. However, if you are planning to remodel your bathroom, you may be wonder what is the standard size of a bathroom vanity. Sizing your new vanity becomes particularly important if you want to have a vanity with 2 sinks.
Having a double vanity may feel like an out-of-reach luxury item; however, this is not always the case. The double vanity will increase the cost of your project, but it can help to make your morning routine much smoother and more enjoyable if you are someone constantly waiting for your turn at the sink. To help you figure out if a two-sink configuration will work in your bathroom, we share our insider knowledge on everything from measurements to vanity sizes and more.
---
Bathroom Vanity Measurements
The first step for a new bathroom vanity is to measure the space where you intend to install it. Vanities come in a variety of sizes, so you will need to have your measurements in order to find the perfect fit. Finding a two-sink option to fit a smaller bathroom could be slightly more challenging, but it is possible. If you need some help measuring your bathroom, you can use our kitchen measuring guide, which translates nicely to the bathroom.
The last thing you want is a vanity that is too big or small for your bathroom. To ensure this does not happen, here are some measurements you should have on-hand during the vanity selection process:
Height: The height of your vanity is critical. There are two types of bathroom vanity heights; comfort and standard height. Standard height is between 30 and 32-inches and is perfect for family bathrooms with children. Comfort height is around 36-inches and is great for taller people.
Width: If you have a specific space you want your vanity to be installed, measure the width of it. Keep a lookout for shower doors and obstacles that may be in the way when opened or closed, and adjust your measurements accordingly. You will also want to ensure there is plenty of space for cabinet doors and drawers to open.
Depth: The depth of the vanity is an essential measurement for not only installation into your bathroom but also in the process of picking the perfect sinks. You don't want to end up with sinks that are bigger than the depth of your vanity. When measuring the space's depth, ensure that there is enough space for cabinet doors and drawers to be opened without obstruction.
---
Standard Bathroom Vanity Sizes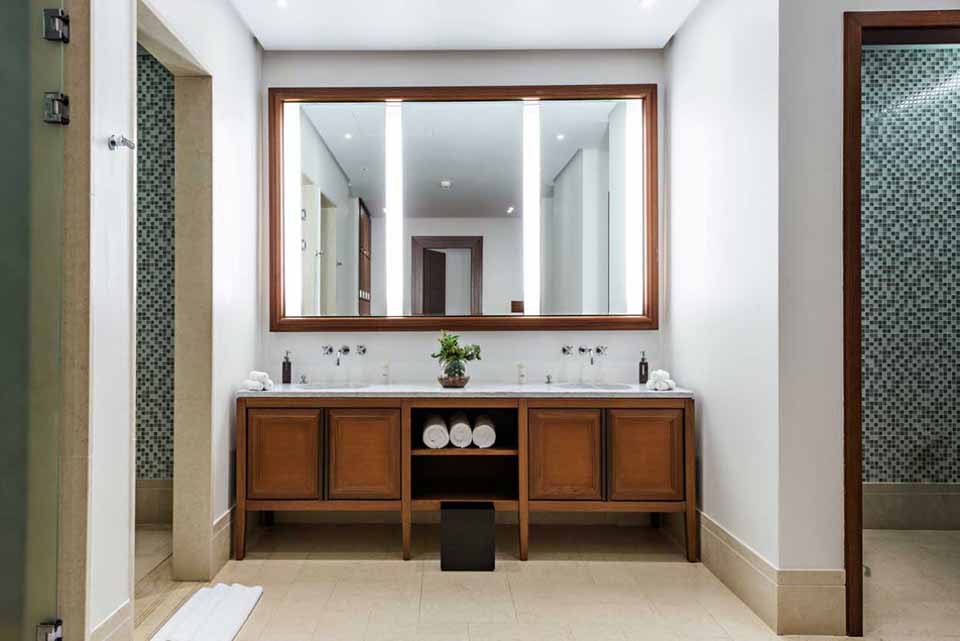 Now that you have your measurement on hand, you can start searching for a vanity. To help you figure out which works best for a two-sink vanity, here are six popular sizes that you'll find in-store and online:
30-Inch: A 30-inch vanity is perfect for a children's bathroom or a powder room with limited space. However, this vanity size can only hold a single sink and has very little storage space for essentials. If you have a large bathroom and want to keep the space open, this size would create a spacious look and feel.
36-Inch: Perfect for an en suite or guest bathrooms, the 36-inch vanity allows for more storage and a little more elbow room. Unfortunately, this size can only accommodate a single sink but has extra countertop space, which is perfect for toiletries, hair tools, and other bathroom essentials.
48-Inch: One of the most versatile sizes is the 48-inch. With the amount of space provided, you have the option of having either one or two sinks. This vanity size is ideal for a master en suite or a roomy guest bathroom.
60-Inch: If you've been wanting his and hers sinks, the 60-inch bathroom vanity is the ideal size for it. Offering two sinks, a generous amount of countertop space, and plenty of storage space, it is perfect for couples. The 60-inch size is made for comfort and is a beautiful addition to any master bathroom — if you have the space for it.
72-Inch: A 72-inch bathroom vanity is a real luxury item. Made for large master bathrooms, its roomy width can easily accommodate two sinks with a vast amount of counter space. It is a beautiful piece that couples who share a bathroom love. One of the key reasons why homeowners get this bathroom vanity is because of how much additional bathroom storage it can provide.
---
Is a Double Bathroom Vanity Right For Me?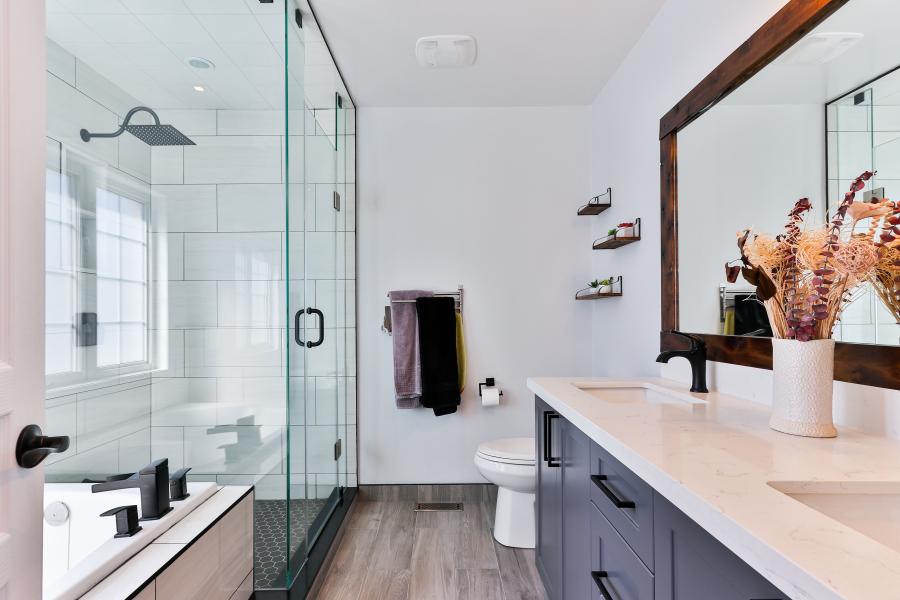 Now that you have your measurements and a style in mind, you might be wondering if a double vanity is right for you. The first thing you need to consider is the budget. The double vanity will increase the cost of your project and can do so substantially if you have to reconfigure existing fixtures. Next, you need to determine if your current plumbing setup will support the double vanity, or if you need to have things moved or added. Once these items are done, you are ready to build your order.
If you are ready to start ordering or if you need assistance, please feel free to call us at 1-844-326-6680 or email info@cabinetdoormart.com. Our team is here to help with everything from measuring to ordering.