Posted by Admin on Mar 22nd 2022
If you are like me, it is more interesting to learn not only an answer to a question but also why that is the answer and not something else. Standard and rules do not come into existence of their own accord. When it comes to kitchen cabinets, this is no exception. When remodeling your kitchen, you may be thinking that you will just go with the standard height for your base cabinets. But, what is the standard height for base cabinets?
The standard height for most kitchen cabinets comes in right around 34.5". You may wonder why not make it a whole number since it will be the standard. The reason for this is to account for the countertop, which typically is around 1.5" thick. This gives you a counter height of 36". In this blog, we are going to dive more into cabinet height, how this standard came about, and what you can do when you need to deviate.
---
What is the Standard Height for Base Cabinets?
As we mentioned above, the standard height for base cabinets in the kitchen is 34.5". And so, this is the size that you will typically find in big box stores that deal mostly with stock sizes. Having a set standard actually helps interior designers and cabinetry professionals, as it eliminates one of the decisions that have to be made.
What is interesting about the standard height for your kitchen cabinets is that it is different for the bathroom! In addition, you may encounter different standard heights depending on what type of work is being done on the countertop. Now that we know more about the standards, let's take a look at how 34.5" was deemed ideal.
---
Why 36"?
What makes standards work is that they have the widest application. And so it should come as no surprise that the height of the kitchen cabinet was determined by looking at the national average height of Americans. The majority of Americans fall between 5' 4" and 5' 9" tall. Depending on the particular task, it is ideal to have your countertop around 3" to 8" below your elbows.
By task, we are referring to the particular cooking or food preparation that is done on the countertop. In addition, you will also need to consider where you will be placing the cooking surfaces in your kitchen.
---
Alternate Cabinet Heights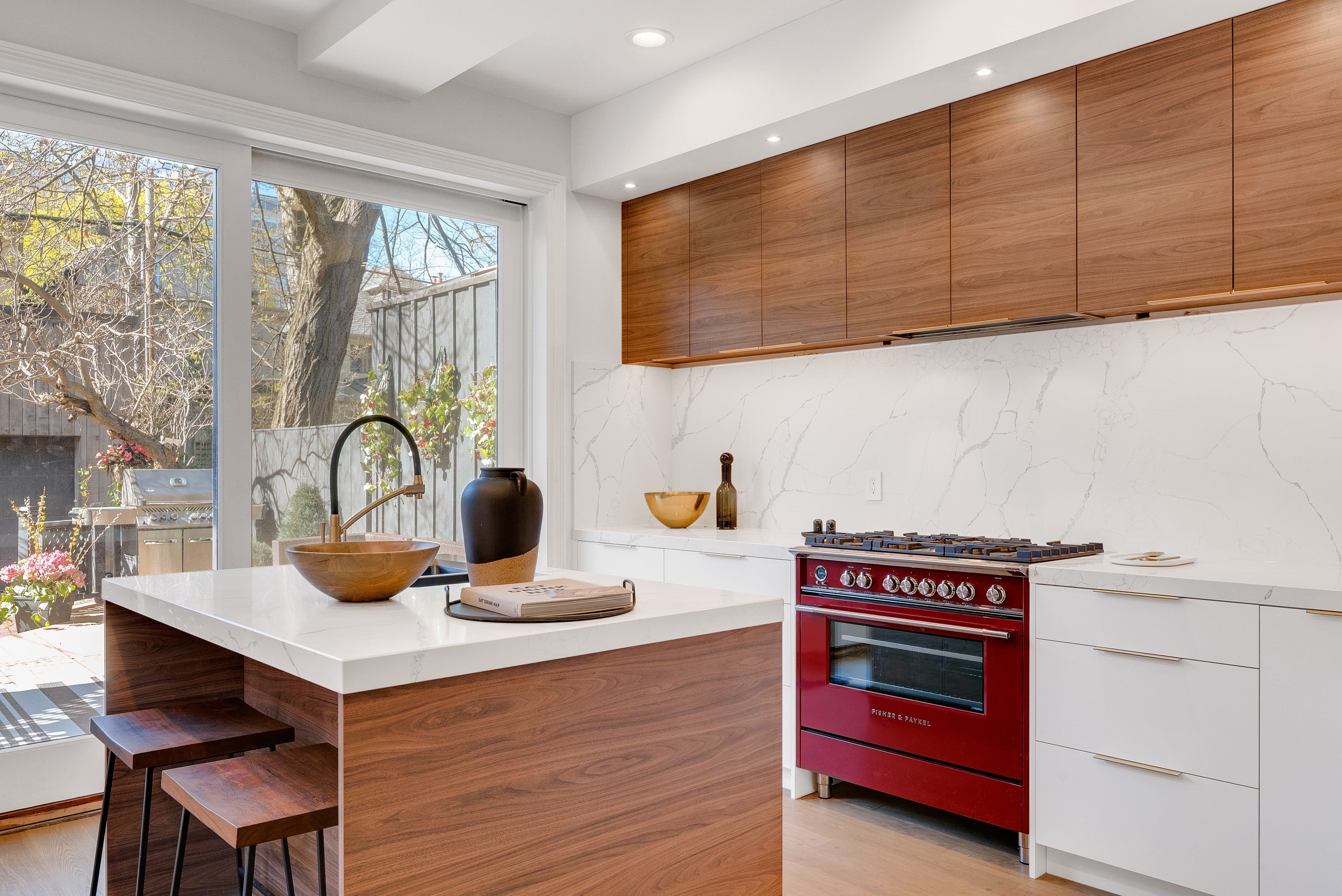 Cooking techniques and equipment have continually changed over the years, which means the standard height will likely not work for every cabinet. And so, there are a few other cabinet height configurations that you will need to consider depending on the level of cooking that you plan to do:
Prep Surfaces: you will only need a minimum distance between your elbows and the countertop, around 3" or 4".
Cooking Surfaces: you will need a bit of extra space to help avoid getting accidentally burned by the surface for something like hot oil.
Baking Stations: you will actually need the most space. Around 8" of distance from the countertop to your elbows will help you extra leverage for kneading and rolling dough.
As you can see from these 3 examples, how your kitchen is used will also help determine the height of your kitchen cabinets.
---
Custom Kitchen Cabinet Height
For those planning on becoming the best at-home chef, you may benefit from choosing custom kitchen cabinetry for your remodel. Custom size cabinets will cost more than stock sizes, but you will be able to fit the cabinets to your kitchen and not the other way around.
CabinetDoorMart offers a variety of configurations for your base cabinets. From a standard vanity base to drawer bases to combos, our high-quality, American-made cabinetry can be tailored to your specifications. Plus, we can even take care of your cabinet door and drawer front needs. The best part is we will ship it all to your door so you don't have to worry about picking it up!
---
Finishing Up
Standing on your tiptoes or being hunched over for hours is uncomfortable. Plus, when you can't conveniently and easily use your kitchen, you may find yourself avoiding it. Cooking can be a great way to bond with others, or it can be a rewarding and creative personal experience. Either way, having properly sized cabinets creates the perfect foundation to explore the culinary arts.
If you are ready to start ordering or if you need assistance, please feel free to call us at 1-844-326-6680 or info@cabinetdoormart.com. Our American-based team of experts is here to help with everything from measuring to ordering.