Posted by Admin on Sep 7th 2021
When you're designing a kitchen, how do you know what the best approach should be? According to experts, kitchens add value and function to your home. You can't go wrong with some basic features such as ample storage and spacious countertops that are easy on the eyes while functional. But when it comes down to fine-tuning details of style or layout there is no one-size-fits-all solution!
---
Trends or Tradition?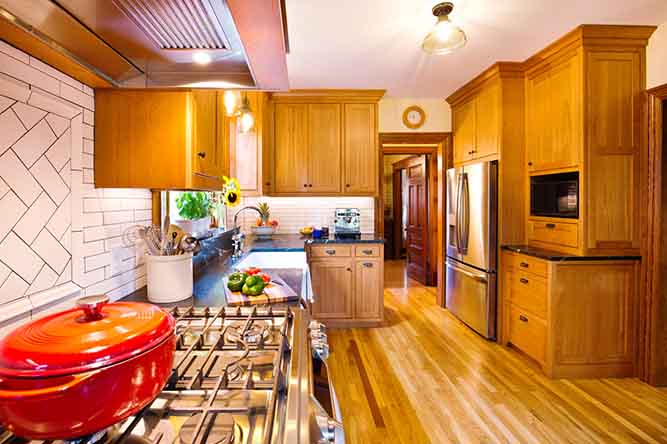 When discussing kitchen design plans, people often wonder if they should go trendy or traditional. Kitchen trends relate more to the look than the function of the space; color and style define the aesthetic. While new appliances and gadgets play a role in the design, you can still have a new smart refrigerator without having to create a modern theme for the room. As work on drafting your design, take a moment to make a list of all your "must-haves" for your kitchen. This way you will have an idea of how much storage space you will need and maybe even a few layout ideas.
In general, kitchen cabinet companies and manufacturers of appliances are considered two of the bigger trendsetters for kitchen design. In addition to these outlets, paint companies play a key role in defining color trends as well. Manufacturers and paint companies will typically have product catalogs available online, so you can get your research done ahead of time.
No matter what you do, there will be some sort of trend that drives what is available. However, the options suggested are quite varied; as long as you avoid weird and wonderful, a good stylish approach can add value by making it unique and personal. If you are not concerned with the resale value, then the sky is the limit for your design!The traditional approach to designing a kitchen is defined in terms of detailed style. Some examples are farmhouse or country kitchens. Traditional designs follow established practices that highlight function, unity, and beautiful embellishments.
The modern, or contemporary, kitchen design approach is defined by minimalism. Modern designers often use slab-style cabinets to achieve a full-overlay with seamless straight lines. While modern designs can incorporate bright or trendy colors, such as navy or sage green, you will nevertheless find countless modern kitchen designs in white.
---
Basics of Good Kitchen Design Plan
When planning a kitchen, it's important to think about its primary purpose - cooking. The design should ensure the process is as efficient and enjoyable as possible. It would be helpful if there was also an understanding of this "place for everything" concept that can help you achieve maximum efficiency when organizing your kitchen!
Ultimately, there is no doubt that we want our kitchens to be functional. Once functionality has been established, we can decide on finishes and style.
In the 1950s, researchers from Cornell University worked to create the most efficient plan for a kitchen. Considering the importance of ergonomics in the kitchen, these researchers established two important concepts, both of which have been retained to this day: the work center and the work triangle
---
Work Center and Triangle
These two concepts are closely linked, with three work centers forming the work triangle. The three work centers are:
Food Storage: This might be in a refrigerator or freezer, or in a larder or pantry. More than half a century later, larders have been replaced by more accessible kitchen cabinets, although some people do still have smaller pantries that are often located in tall cabinets.
Food preparation and cleanup: These are typically defined by the sink. In some contemporary kitchens, there are two sinks, one for washing up and another smaller one for food preparation, including rinsing of fruit, vegetables, and salad ingredients. In traditional kitchens, you often find large farmhouse sinks that not only look stunning but also offer plenty of working space.
Cooking: This is defined by the kind of cooking appliances you own. This work center could shift depending on the required appliances for the dish that you are preparing.
The concept of a work triangle was motivated by a need to connect work areas logically, without forcing the cook and others using the kitchen to walk further than necessary. Of course, food preparation and serving food both require some sort of work surfaces, so these areas also need to be considered in the planning and design stages.
---
Final Thoughts on Trend vs. Tradition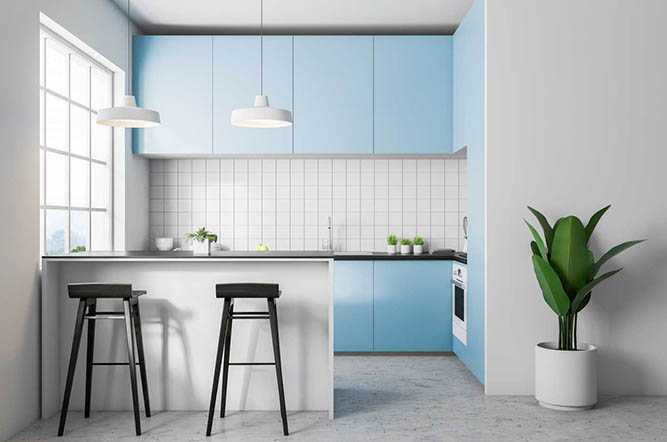 No matter the direction you choose, there are many things to consider with regard to your kitchen. Start by making a list of requirements for what must be included in order for it to "work." There is no limit on how trendy or traditional you can go; if the style fits and functions well, this will add value when selling.
If you are ready to start ordering or if you need assistance, please feel free to call us at 1-844-326-6680 or info@cabinetdoormart.com. Our team is here to help with everything from measuring to ordering.