Posted by Admin on Dec 28th 2021
As the end of the year quickly approaches, you may be wondering what you can do to give your kitchen a new look for the new year. Over the last two years, many of us have gained a new appreciation for our homes and want to make them as comfortable as possible. A kitchen cabinet makeover can be just what you need to make your kitchen beautiful and inviting.
One way you can quickly, and relatively easily, change the look and feel of your kitchen is to reface your kitchen cabinets. Cabinet refacing refers to the process of buying and replacing just the cabinet doors and drawer fronts. In this article, we are going to walk you through the steps for a successful cabinet refacing project.
Before we get started, gather the following supplies:
Notepad
Pen/Pencil
Calculator
---
Getting Started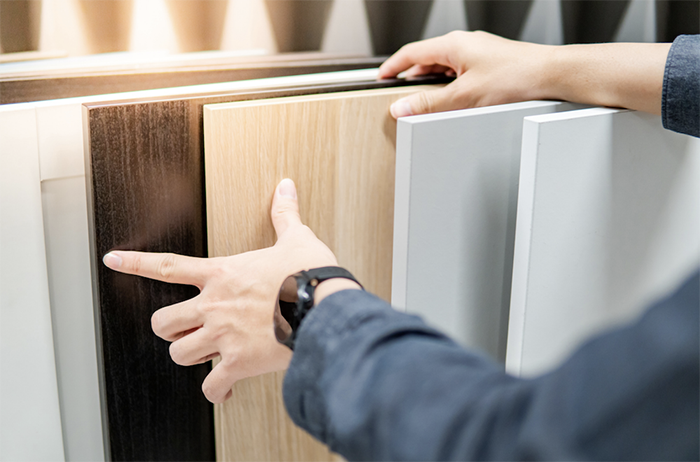 We cannot emphasize enough the importance of properly measuring for your new cabinet doors. Ordering the wrong size cabinet doors or drawer fronts can lead to delays and additional costs. Improperly sized doors and drawer fronts could mean that your hinges do not fit or your doors cannot close flush. In the worst-case scenario, this would mean having to reorder all of the doors, drawer fronts, and hardware because your measurements were off.
Measuring Cabinet Doors and Drawer Fronts
Before you get started, you need to decide if you want your new cabinet doors to be the same size as the old ones. You might choose this route if you want to have the same overlay, or distance the cabinet door goes past the cabinet opening, that your current doors have. In this case, simply measure your cabinet door or drawer front outside edge to outside edge recording the width and height (in that order) to the nearest 1/8th inch.
If you want to change the look or you don't have existing doors and drawer fronts to measure, then you will need to do some math. Luckily, these calculations are rather straightforward. To start, measure the width and height of the cabinet box opening that you wish to cover. Next, add your desired overlay or subtract for inset installation.
For example, if your cabinet box opening is 10" x 15" and you want a partial overlay of ½", then you should add 1" to both the width and the height. And so, you would order a cabinet door at 11" x 16" for your cabinet box. For additional assistance with measuring, check out our cabinet door measuring guide.
---
Selecting Your Cabinet Doors
Once you have your measurements double-checked and recorded, it is time to select a style. Looking at online showrooms for cabinet doors can be a bit overwhelming. With so many styles and materials out there, it can be difficult to know what is right for you. If you have found inspiration pictures online, you can send them to us at CabinetDoorMart and we will match you to one of our cabinet door styles!
If you are just getting started and aren't sure where to even start, then we recommend refining your search. One easy way to eliminate a lot of options is to decide if you want trendy vibes in your kitchen or traditional aesthetics.
Traditional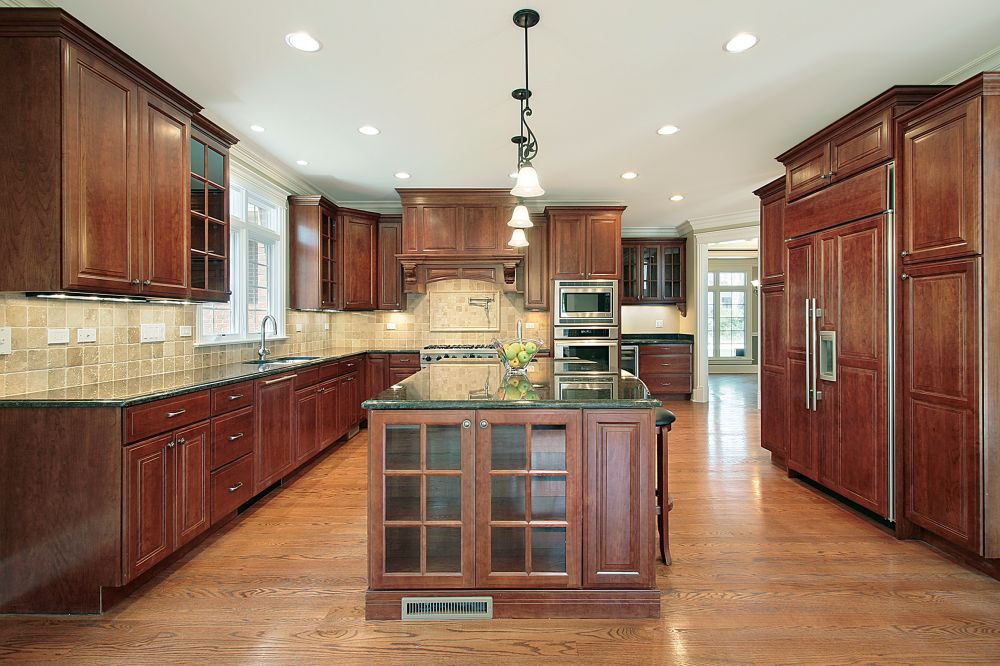 Generally speaking, traditional cabinet door styles will feature darker or natural wood tones, ornate door styles, matching drawer fronts, and raised panels. Additionally, applied moldings are also popular for this stylistic direction.
Our most popular cabinet door in the traditional style is our Revere cabinet door. This door features a raised panel with interesting detail on both the inside and outside edges. Our Revere cabinet door is great for staining or clear coat finish when ordered in one of our high-quality solid wood options.
Contemporary
If you are interested in more contemporary or trendy designs, then you will likely be looking at a lot of recessed panel doors and slab-style cabinet doors. One big element in trendy kitchen designs right now is color. Adding pops of unexpected colors can help to brighten and liven up your kitchen. In addition, two-tone kitchen cabinets are being increasingly popular because of their great benefits.
Thermofoil cabinet doors can be a perfect solution for a contemporary kitchen design. Thermofoil is a vinyl laminate that is heated and pressurized onto an MDF, or medium-density fiberboard, core. Our thermofoil cabinet doors are available in a wide variety of colors and textures, so finding your new favorite won't be hard.
Best of Both Worlds: Shaker Cabinet Doors
If you are looking for something that feels contemporary but not too modern, then we recommend the Shaker cabinet door. The Shaker cabinet door offers a recessed panel with a straightline design for an outstanding minimalist aesthetic. Plus let's face it, you can almost never go wrong with the timeless white painted Shaker cabinet door.
---
Finishing Touches for Your New Cabinet Doors
Once you have your sizes and style selected, you can move on to the finishing touches for your new cabinet doors. At CabinetDoorMart, we offer several ways for you to customize your cabinet doors so that they are perfect for your project.
Edges and Profiles: Most of our cabinet doors and drawer fronts offer the option to change the outside edge profile. This way, you can ensure all your new cabinetry matches and is to your liking. To see our available edges and profiles, check out our available profiles page.
Boring for Hinges: You will need to decide if you will be boring your doors for hinges yourself or if you want us to take on that job for you.
Glass for Cabinet Doors: Finally, all of our doors have the option to be cut for glass. We are able to leave the whole panel open, or we can install French lites. Glass cabinet doors are a great way to add another layer to your kitchen design. You should note that CabinetDoorMart does not ship any glass.
---
Ordering Your New Kitchen Cabinet Doors
Upgrading your kitchen cabinet doors for the new year, as you can see, can be done from the comfort of your couch. Our streamlined ordering process can be completed in 5 simple steps, and we will ship your new cabinet doors right to your home. We also offer unparalleled, American-based customer service, and our reps are able to help you no matter what stage you are at in your project.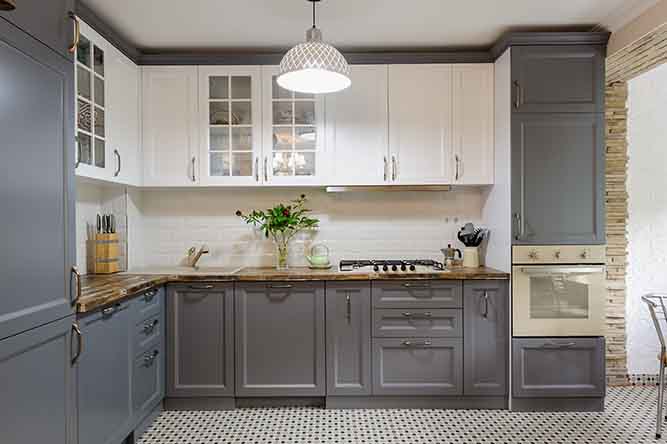 If you are ready to start ordering or if you need some assistance, feel free to give us a call at 1-844-326-6680 or an email to info@cabinetdoormart.com. Our cabinet experts would love to help you with everything from measuring to assembly.