Posted by Admin on Feb 17th 2022
MDF is a type of engineered building material that can be used for many different things. MDF stands for Medium Density Fiberboard, and it's made out of thin sheets from wood fibers, veneer resin, and wax. These materials are heated and pressed into large sheets, which can then be cut into various shapes depending on the need at hand.
Many homeowners are cautious when it comes to engineered building materials like MDF. However, it is very likely that you already have MDF in your home and might not even realize it. It can be used for everything from cabinet doors to bookcases to coffee tables. MDF has become one of the most sought-after building materials because it is cost-effective, durable, and it is extremely versatile in terms of application. In this blog, we are going to take a look at why MDF can be a great choice for your project.
---
Reasons We Love MDF
Man-made building materials and engineered wood are often looked down on as cheap or frail. On the one hand, MDF is a cheaper option than solid wood, but this does not mean that it is weak. MDF is a very reliable material, as it is resistant to warping and twisting. The strength, affordability, and customization of MDF have made it an excellent choice.
One reason some homeowners avoid engineered building materials is the stereotype that they are cheap or frail. However, this is not always the case. While it is true that MDF is more affordable than solid wood options, MDF does not sacrifice strength. MDF can be a great choice for larger doors, as it does not warp or twist like solid wood. Let's take a look at some of the benefits of MDF:
Cost-Effective: MDF is much more budget-friendly than solid wood options, but you don't have to worry about sacrificing any strength or durability. With the proper maintenance, MDF cabinets can last longer than people imagine.
No Warps & Cracks: MDF expands and contracts with fluctuating temperature and humidity. But due to its structure, this material does not warp or crack. This is because it is produced as large sheets and is a single unit, unlike solid wood doors that are constructed for multiple parts.
Smooth Finish: If you're looking for cabinets with a smooth finish, opt for MDF. If you're thinking of painting your cabinets, we highly recommend MDF for a beautiful smoothness that you can't get from other materials. MDF can also be finished with thermofoil, which is a vinyl laminate that is heated and pressurized onto an MDF core.
Water Resistant: If you're installing cabinets in your home's high moisture areas like your bathroom, opt for MDF. Talk to your cabinet retailer and determine what types of MDF have been specifically made to be resistant to water. However, in most cases, MDF should not be used for external construction.
Customizable: From shaker cabinets to inset cabinets, cabinet doors come in a wide variety of styles. If you're looking to opt for one of these styles, go with MDF as it is easier to customize. It is also used in a wide variety of furniture you might not expect. Due to its structure, MDF can easily be drilled into and cut in various ways without causing damage.
Does Not Twist or Warp: Unlike solid wood cabinets, MDF does not warp or twist at larger sizes. This means you will not need the added battens for support, which can help you save on the total cost.
---
The Drawbacks of MDF
But MDF is not all pros, and does come with a few cons, including the following:
Can't Sand Down Damage: MDF is more difficult to repair than solid wood. With solid wood, scratches can be easily sanded away. However, with MDF, it takes a bit more work.
Not Heat Resistant: MDF does not work well when exposed to extreme heat as it damages the material. If you're planning to install cabinets into an outdoor kitchen, avoid using MDF.
Cannot Be Stained: Since it has no grain pattern, MDF cannot be stained. If you are wanted a stained look for your cabinets, you will need to explore solid wood options.
---
Final Thoughts on MDF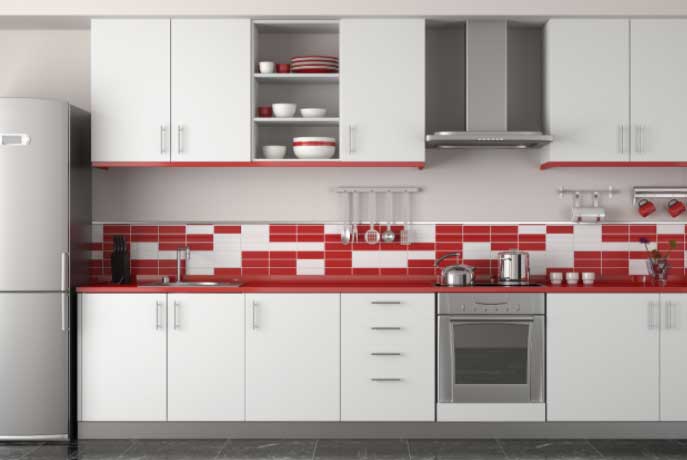 MDF is both less worrisome and more ubiquitous than most think. Due to their versatility, MDF products can be worked into virtually any space. MDF can be finished with paint or laminate materials like thermofoil, so the possibilities are endless for finding your personal style for your design.
If you are ready to start ordering or if you need assistance, please feel free to call us at 1-844-326-6680 or email info@cabinetdoormart.com. Our team is here to help with everything from measuring to ordering.